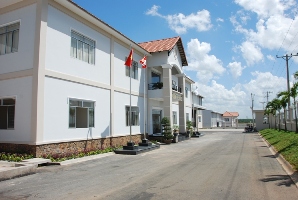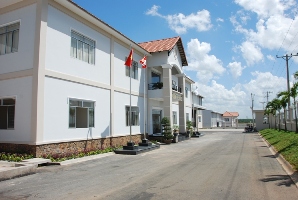 "Vietnam is a purely commercial market with no subsidies"
Danish company Sunmark A/S has run a collector factory in Ho Chi Minh, Vietnam, since 2006. Over the years, the factory has been expanded to 14,000 m2 and is currently employing 100 people. Most of the collector production output, an integral part of every Sunmark turnkey energy solution, is shipped back to Europe. Solarthermalworld.org spoke with Hans Grydehøj, CEO and one of the two founders and owners of Sunmark, about market development in Vietnam and Denmark.
Solarthermalworld.org: What made you start your production in Vietnam?
Grydehøj: The Danish government stopped all incentives for solar thermal technology in 2001, and the market remained very calm in the following years. It was by coincidence that we got a request for a solar thermal installation from the Sheraton Hotel in the coastal city of Nha Trang, Vietnam, in 2004. Back then, we had to decide whether to stop that business or turn it into another direction. So we decided to deliver the project to the hotel. We later used a b2b programme by the government to support business activities in development projects by commissioning a study on the framework conditions in Vietnam. Solar thermal was at zero in Vietnam at that time, but had huge potential.
Solarthermalworld.org: How is the market situation in Vietnam today – five years later?
Grydehøj: The market is picking up rapidly. The driving factor is the lack of electricity. In the dry season, planned power cuts are common. It can happen that the electricity utility informs its clients that in the next two months, there will be no electricity on two days a week. People from the middle-class, however, want to take hot showers, even during power cuts, which is why thermosiphon systems are a suitable technology.
Also, commercial clients are getting more and more involved in solar thermal technology. What convinces them are rising fossil energy prices and, very importantly, the short payback times of 2 to 4 years for Sunmark energy solutions. Our main clients are leading hotels, food processing companies and leather dying factories. But it was hard work to enter the market. We spend a lot of time and money on explaining the technology to public and private stakeholders, and to train people.
Solarthermalworld.org: Does the government give any financial support for solar thermal installations?
Grydehøj: No, it is a purely commercial market. The metropolis Ho Chi Minh City, former Saigun, with 12 to 15 million people, plays an important role in the development of the solar thermal market. According to my estimates, around 40,000 thermosiphon systems have been installed in the residential sector of the city. Most of these systems are imported vacuum tube collectors from China.
Solarthermalworld.org: In the meantime, most of the collectors produced in Vietnam are being shipped back to Europe? What drives the market in Denmark?
Grydehøj: The Danish market is exploding. We have installed around 30,000 m2 of large solar thermal systems in Denmark in the current year. Total market volume was 54,500 m2. It looks like Denmark can reach a total of 170,000 m2 country-wide next year. We already signed two contracts – one for a 15,000 m2 installation, the other for a 17,000 m2 system – and there are five more biddings coming. The projects all follow the already proven method: Large fields of solar thermal installations are integrated into already existing district heating systems. Right now, Denmark is the fastest growing market in Europe when it comes to large-scale installations.
More information:
http://www.sunmark.com