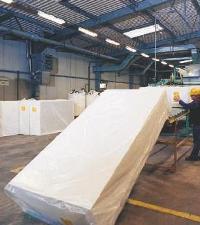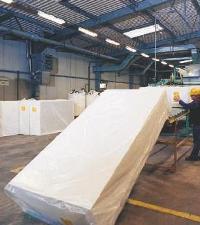 Viessmann: Insulating Collectors with Melamine Foam Basotect
Unique worldwide: The picture shows BASF's already packaged Basotect block, a melamine foam product, which will be cut by licensed converters.
Photo: BASF
Until now, only tank manufacturers had used melamine foam as an insulation material. Viessmann is taking the first step to insulate some of its collectors with the melamine material provided by the German chemical company BASF. "We will use this material in our collector types Vitosol 200 and Vitosol 300," explains Stefan Hirzinger, Product Group Manager for solar technology at Viessmann. Melamine foam achieves the same price on the market as mineral wool due to an intelligent design of the insulation layer.
BASF is the material's exclusive manufacturer, offering it under the brand name Basotect. According to the manufacturer, the product has a thermal conductivity below 0.035 W/mK, can withstand temperatures of up to 220 °C and is flame-retardant.
Some important German suppliers of solar thermal systems, such as Sonnenkraft, have already used Basotect for their buffer tanks above 750 litres. "We chose melamine foam because it was easy to wrap around big buffer tanks already installed in the cellar," Christian Stadler, Technical Director at Sonnenkraft, explains. The material is furthermore easy to cut into different shapes, perfectly surrounding the tank and eliminating energy losses caused by the "chimney effect", i.e., the floating of hot air from the bottom to the top in the gap between tank surface and insulation.
Melamine foam possesses a lot of technical advantages for the solar thermal industry. The disadvantages concern the relatively high price as a raw material and the dependency on one single supplier. BASF has patented parts of the melamine foam production process and thus remains as its only supplier worldwide. A limited number of converters bound by contract to BASF offer finished and semi-finished goods made from Basotect on the world market.
Peter Nessel from the Global Business Management Basotect division at BASF confirms: "We do not have any capacity shortcomings." He dismisses the rumour that BASF faced shortages of melamine foam in the second half of 2008, when the demand on the German solar thermal market increased at notable rates. "Another market player could have used this argument to hide its own capacity problems at that time," Nessel assumes.
More information:
http://www.basotect.com