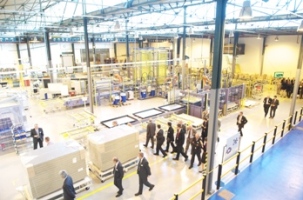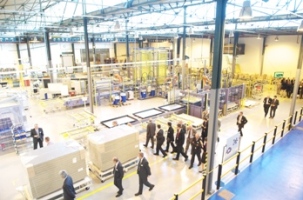 Vaillant: New Collector Production in Nantes, France
Inauguration of the new solar factory in Nantes, France, at the end of September: It is the second collector and absorber production unit of the German Vaillant Group.
Photo: Vaillant
It is a sunny future that the Vaillant Group is preparing for: On the 30th of September, the European heating giant with headquarters in Germany has started a brand new collector factory in Nantes, in western France. Nantes is already home to one of the group's several production plants. The capacity of the new factory is 300,000 m2 of collector area per year, according to a press release. The Vaillant Group invested around EUR 3.5 million into a production line for absorbers with a laser welding machine and an assembling line for collectors.
"The new production line in Nantes will strengthen our market position in the renewable sector," Vaillant Group's Managing Director, Dr. Carsten Voigtländer, said at the opening in Nantes. "In the first half of 2009, we recorded a double-digit growth in sales of solar thermal systems and heat pumps – despite the difficult economic environment."
From red to orange: The robots in the first Vaillant production unit in Gelsenkirchen, Germany, are red – the colour of Reis Robotics, Germany. This photo shows a Kuka robot from the new Nantes factory in France with the brand's own colour – orange.
Photo: Vaillant
The production lines in the new solar factory were modelled after the ones set up last summer in the German Vaillant factory in Gelsenkirchen. The robotics specialists from main contractor Reis Robotics built up the collector assembling line there. In Nantes, Vaillant did not entrust a main contractor with the machinery equipment for the line, but designed the line in-house, with the experiences drawn from Gelsenkirchen. The heart of the absorber line, the laser welding machine, was bought from the German Kuka Roboter GmbH (see photo above).
More information:
http://www.Vaillant.de
http://www.kuka-robotics.com
http://www.reis-robotics.de
http://www.reisrobotics.com