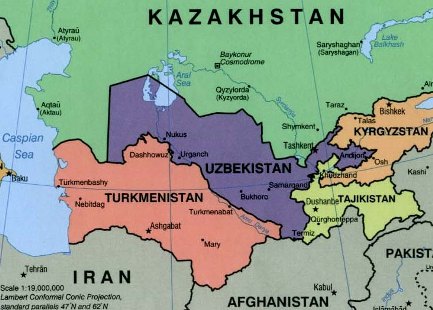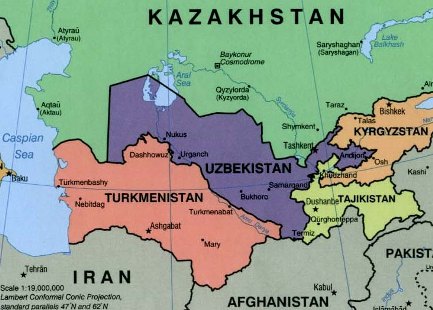 Uzbekistan: State-Owned Utility to Increase Solar Thermal Deployment
Uzbekistan's government is exploring its solar options to reduce the country's dependency on fossil fuel imports. The central Asian state with 31 million inhabitants is an oil-producing nation, but because national demand is higher than production, it still has to import some of its oil. Located in an arid and sunny region, the country has an extreme continental climate. The Uzbek government is planning to install 300 solar collectors in different cities during 2015 and 2016 and has put state-owned utility Uzbekenergo in charge of implementing the programme.
Map: Wikimedia Commons
According to Iso Sadullaev, an official representative from Uzbekenergo, the programme will focus particularly on solar water heating installations at hospitals, orphanages and other social institutions. About 20 solar collectors have already been installed as part of the programme on some properties in the regions of Khorezm and Ferghana, as well as others throughout the country.
Sadullaev confirms that all collectors will be supplied by the recently founded local flat plate collector manufacturer, Quyosh Issiqlik Energiyasi, situated in the economic zone of the city of Jizzakh in eastern Uzbekistan. Quyosh Issiqlik Energiyasi, which was established in 2014, is a joint venture between Jizzax Hududiy Elektr Tarmoqlari Korxonasi, utility Uzbekenergo and Chinese manufacturer Hangzhou Zhongwu Electronic Meters Company. Current production capacity is around 3,000 collectors per year, whereas long-term capacity may increase to around 50,000 panels annually, Sadullaev replies to a question by solarthermalworld.org.
An article on Uzbek news portal
http://www.nuz.uz
from 23 April 2015 explains the ambitious renewable plans of Uzbekenergo, a utility which is listed on the stock exchange and operates power plants totalling 12.4 million kW. Uzbekenergo aims at installing 13 projects with an investment value equalling USD 3.2 billion or more. Among these projects is a 100 MW photovoltaic power generator said to be installed in the Samarkand region in 2016. The utility also has plans to install a biogas plant and several additional PV generators, according to the NUZ report.
More information:
The text was written by Eugene Gerden, a freelance journalist based in Moscow and specialised in renewable energies.