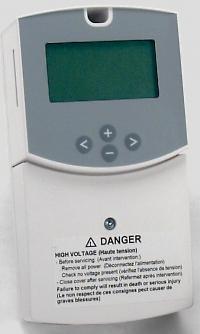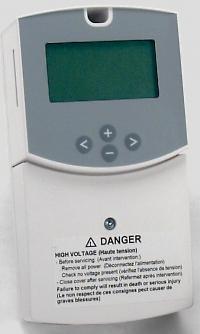 USA: Watts to Introduce Solar Station for Collector Fields of up to 400 m²
US-American manufacturer Watts, a Watts Water Technologies Company, is planning to extend its solar product range. Among other things, the company is going to offer a new solar pumping station for larger commercial systems. The FlowBox Solar for collector fields of up to 100 m² (FBS 1000NA), which entered the European market two years ago, will be available in the US through Kingspan Solar in early 2013 and will also be shown at Solar Power International in Orlando, Florida. "We want to increase our visibility in the growing commercial segment," Alex Green, Solar Technical Manager at Watts in North America, explains. Watts is the second solar component supplier after German supplier PAW GmbH & Co KG which will offer a German solar station development for larger systems on the US market. The photo shows the LCD plus controller – developed in Europe and produced in France – which has been available in the USA for four years.
The FBS 1000NA is a module-based system. Three additional modules can be added to the basic solar station for another 100 m² field each. The station can be controlled by flow sensors, which control up to 400 litres of hot water a minute and include connections for rinsing, filling and the expansion tank.
So far Watts offers solar controllers and solar stations primarily for the residential market in North America. "We are satisfied with the growth of our business," says Green. Watts does not show up as a brand name, but sells only through OEM customers such as the Danish solar thermal system provider Velux, the US-American tank manufacturer Lochinvar and the Chinese vacuum tube collector manufacturer Apricus.
The solar technical manager has noticed a lot of movement in the northeast of the country, in which "plumbers are more familiar with hydraulics. Also, the risk of frost is high, so that solar system technology is generally more advanced". The opposite is California whose solar hot water business is still growing at a slow rate. Low gas prices, as well as a lack of awareness of solar heating technologies are the two major barriers keeping the market small in this sunny state, according to Green.
In January 2012, Watts Water Technologies acquired Canadian controller manufacturer tekmar Control Systems. Whereas tekmar's wide range of controllers for heating and solar solutions does complement the product portfolio of Watts, the Canadian manufacturer's controller units have not yet been combined with a solar pumping station. So far, the sales and technical department of the now Canadian subsidiary of Watts has acted fairly autonomously. Green, however, confirms that in the long run further synergies between the complementary portfolios should be used.
tekmar had been a family-owned business with 25 years of experience in the hydraulic sector. Located in Vernon, British Columbia, Canada, the controller manufacturer had annual revenue of approximately USD 11 million in 2011.
Watts Water Technologies is a globally operating company with headquarters in the US. 5,800 employees helped the company make a turnover of more than USD 1.44 billion in 2011. The group manufactures products to control the efficiency, safety and quality of the water supply in residential, commercial and institutional applications.
More information:
http://www.watts.com
http://www.tekmarcontrols.com