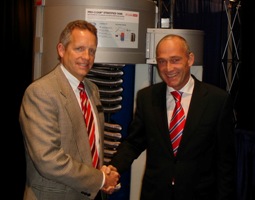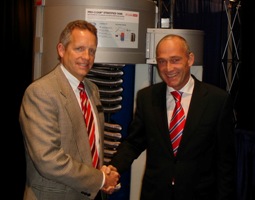 USA: Strategic Partnership between Tank and Collector Manufacturer
Start of a new cooperation: Bill Vallett, Jr., President of Lochinvar (left) and Robin Welling, Managing Director of Tisun, presented their new brand Lochinvar/Tisun at the AHR Expo in Orlando, Florida, in spring this year.
Photo: Tisun
A new product line of solar thermal systems has just been launched this month under the brand name Lochinvar/Tisun. Since February, the two manufacturers were joining forces to develop systems suitable for the solar markets of the United States, Canada and Mexico. Professionals from both Tisun and Lochinvar worked hand in hand to fulfil all the specific requirements of US-American standards and certifications.
The expertise in both companies complements each other well. Austrian collector and tank manufacturer Tisun has been specializing in solar thermal since its foundation almost 20 years ago. To date, it employs a staff of 215 people in its headquarters and sales offices. Lochinvar is one of the largest boiler manufacturers in the USA. It is a family-owned company with a staff of around 300, including sales representatives.
Two different types of Tisun collectors will enter the American market under the Lochinvar/Tisun brand, namely the commercial vertical and horizontal 30 ft2 collectors for light duties and 4 sizes of large commercial collectors, with a collector area of up to 130 ft2. Solar storage tanks with a capacity of up to 940 gallons will be part of the product line, too. The storage tanks, which will be manufactured by Lochinvar, will include traditional glass-lined tanks with or without internal heat exchangers, as well as indirect tanks made of stainless steel and with one or two stainless steel tube heat exchangers. Soon, Lochinvar will release additional tank designs to be added to their product offering.
"Lochinvar's well established professional sales and distribution network will complement the Lochinvar/ Tisun product offering in North America," Stirling Boston, Lochinvar's Marketing Director, noted in an interview with Solarthermalworld at the Intersolar 2010. The two companies intend to focus their efforts on the commercial sector. "To cater the North American solar thermal market, we are currently expanding our finished goods warehouse by 20,000 ft2 and have added personnel,"he explained.
In January, Lochinvar also launched a new series of indirect water heaters called Squire Stainless Steel Indirect Water Heaters, which includes six solar-specific models possessing storage capacities of either 65, 80 or 119 gallons. One of the solar models features a dual coil design with a stainless steel coil in the bottom of the tank, providing solar energy as the primary heating source, and a coil in the top of it, which is connected to the back-up boiler. The second Squire solar tank design incorporates a single coil for the solar water and an electric heating element as the back-up heat source. The entire line is manufactured at the company's headquarters in Tennessee.
More information:
http://www.tisun.com
http://www.lochinvar.com
This Text was written by communication specialist Hanna Schober based in South Africa. Schober@solrico.com