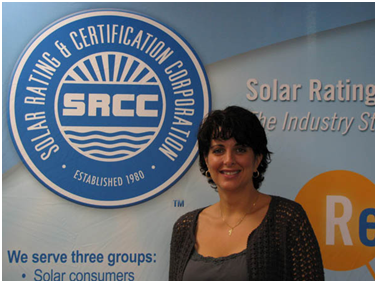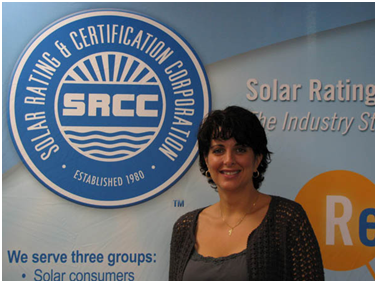 USA: SRCC Improves Process Efficiency and Works on Standard for Combi Systems
Since Eileen Prado has become Executive Director of the Solar Rating & Certification Corporation SRCC in summer 2010, the average time for the testing and certification process has been cut in half. Although there are new programmes coming up next year, Prado is confident that certification periods can be reduced further.
Photo: SRCC
For the first time since the founding of the SRCC in 1980, the Executive Director is not an engineer, but a business woman from outside the solar industry. "My job is to help SRCC grow as a business," Prado says. To improve efficiency, the SRCC now certifies and rates in-house – work, which had been subcontracted to the Florida Solar Energy Center (FSEC) in previous years. Jim Huggins, who worked for FSEC as Technical Director, has now joined SRCC to continue his work in a new environment. He is supported by Assistant Technical Director Tomas Koenig and four employees solely responsible for collector standard OG100 and solar system standard OG300. 850 collectors have received the OG100 certificate by now, including four concentrating collectors that were tested according to Standard 600 launched in April 2010. The OG300 certification was granted to a total of 1,995 systems.
For 2012, one of the organisation's aims is to further improve the efficiency of the certification processes. Applications for SRCC programmes are getting automated (first OG100, then OG300) – and only completely filled-out papers are going to be accepted in the future. "The back and forth between the applicant and the SRCC has slowed down the process. It takes about six weeks from the time we receive the lab report to the certification. I think with an automated application process, we can cut this down to three weeks," Prado says. Still, the most time-consuming process is lab testing itself. Many of the eighteen labs which currently perform SRCC testing use outdoor test systems. They rely on natural sun light and testing them may need up to six months.
A top priority for 2012 is establishing a certification programme for combi systems. The new standard OG500 is thought to be published before the end of the year. The Board of Directors with members from the solar industry, the public sector and other interest groups have come to see combi systems as one of the interesting innovations in the industry. "We have to keep up with the market," Prado says. As work on the new programme has just begun, information is still sketchy.
Another goal for 2012 is to improve communication. The website will have a quarterly newsletter and other must-know details for consumers. "It is important to raise consumer awareness," Prado says, adding: "These changes do not mean that we are changing our priorities. Our primary purpose has always been the development and implementation of national rating standards and certification programmes for the solar thermal industry. We empower consumers to make educated decisions and allow the industry to use consistent and reliable ratings to measure the efficiency of their products and systems. This ensures the industry maintains a solid reputation in the fast-paced alternative energy arena."
More information:
http://www.solar-rating.org