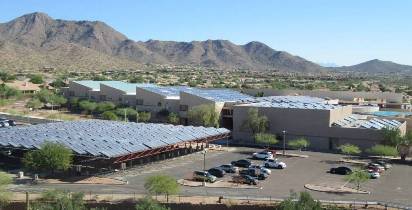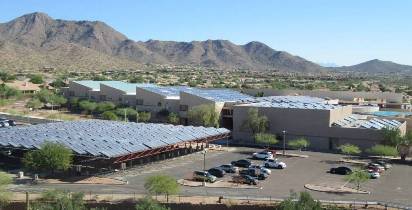 USA: S.O.L.I.D. Operates 3.4 MWth Cooling System as ESCO in Arizona
It is an ideal location for solar cooling use: Scottsdale, a US city in the Greater Phoenix area in Arizona enjoys an average of 312 days of sunshine every year. Between May and September, temperatures rise above 38°C and can even reach 46°C on a hot day. This is where in July 2011, Austrian company S.O.L.I.D has started to plan a solar cooling system for Scottsdale's Desert Mountain High School (DMHS) of 2,600 students. Three years later, the 3.4 MWth (4,865 m² of collector area) system went into operation and is now supplying heat to a single-effect lithium bromide absorption chiller with a cooling capacity of 1,750 kW. The solar cooling installation at the DMHS is currently the largest of its kind in the world, having surpassed the 2.7 MWth solar thermal capacity (3,900 m²) of another S.O.L.I.D system at the United World College (UWC) in Singapore.
Photo: S.O.L.I.D.
The collectors are exclusively large-scale high-temperature collectors, which have a size of 12.5 m² and include a foil between the glass cover and the absorber plate to reduce convection losses. Most components of the collectors were supplied by Austrian manufacturer Asgard Solarkollektoren (formerly Ökotech) and some parts by Danish company Arcon, the project description on S.O.L.I.D´s website reads. "The school schedule perfectly matches the operating hours of the solar system: starting at 9 am in the morning, most classes end at 4 pm in the afternoon, although some sports activities take longer," the turnkey system supplier explains. The system was commissioned in spring 2014 and S.O.L.I.D predicts an annual solar energy yield of 3.9 GWh, which corresponds to a specific yield of 800 kWh/m² of collector area.
Bottleneck: System prefinancing
The investment in the turnkey installation, including the collector field with its carport installation, as well as the tanks, the chiller and financial costs, added up to USD 10 million. The financing of the system was the bottleneck of the project and caused a certain delay in its implementation. In 2012, S.O.L.I.D tried to
find a bank
to prefinance the investment because the Austrian system supplier planned to operate the installation as an Energy Service Company (ESCO) providing solar cooling to the Scottsdale Unified School District (SUSD). When the Austrian company did not succeed in finding a bank that would take over prefinancing, it had to look for another solution.
Private placement of large-scale solar thermal system get 4 % interest
It was in November 2013 when S.O.L.I.D presented a new fundraising model called Solid Invest. Private investors who believe in solar heat can lend money to Solid Invest and receive a moderate but fixed interest rate of 4 % by signing a loan agreement. Loan sums range from EUR 1,000 to EUR 25,000 and more. The system in Arizona was financed mainly by the Raiffeisen US Finance bank, but Solid Invest contributed to it as well. The complete system belongs to Solid DMHS ESCO, which operates the installation and signed a 20-year contract for delivering cooling energy to SUSD.
The Arizona Public Service (APS) utility recognises the regional electricity-saving potential of solar cooling and is supporting the DMHS installation through a fixed contribution per kWh over 10 years. The electricity company is particularly interested in the relief that solar cooling provides to the grid – especially during peak loads, when 75 % of the city's power is used for cooling purposes. The ESCO's revenues therefore consist of performance-based incentives from APS, as well as consumption- and capacity-based amounts from the SUSD.
More information: