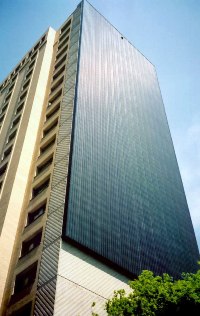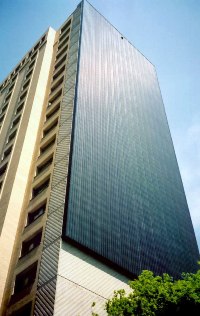 USA: Iron Workers International Union launches Solarwall Training Programme
North America's iron workers gain knowledge in green technology: In October, the International Iron Workers Union announced that it has developed the first Solarwall installer training programme for their members. The certified solar air heating training programme covers commercial and industrial applications.
Photo: Conserval
Solarwall air heating systems are directly integrated into a building and therefore require a skilled installer to ensure proper integration into the building envelope. Solarwall was developed by Conserval Engineering, which partnered with the International Iron Workers Union and Pennsylvania contractor G.M. McCrossin to develop the curriculum. Effective immediately, iron workers can attend the training course in places across North America.
"We jointly came up with the idea, and the Iron Workers Union was very interested in developing a new course to help teach their members how to become certified Solarwall installers," Victoria Hollick, Vice President Operations at Conserval, explains. The programme is financed by the union, which is also responsible for conducting the training. "The course is optional for members of the Iron Workers Union, but it allows them to gain access to a most interesting new industry," states Hollick.
"Solarwall systems are part of the emerging green economy, and it is a great thing that Iron Workers are  an integral part of the workforce, making the world a better place to live for future generations" Joseph Hunt, General President of the Iron Workers Union, confirms. "Adding this new technology to existing buildings, and erecting it on new construction projects will not only help put Americans back to work, but it can also help this country in the battle to achieve energy independence, and reduce the greenhouse gases produced by using conventional means to heat buildings."
The International Association of Bridge, Structural, Ornamental and Reinforcing Iron Workers Union, AFL-CIO, is a trade union whose roots go back to the 1890s. Currently, it counts well over 100,000 members, with about 12,000 apprentices among them.
Conserval is one of the biggest manufacturers of unglazed solar air collectors worldwide. This represented an opportunity for the Iron Workers Union to establish their members as essential contributors to the solar air heating sector in the United States and Canada, while at the same time providing Solarwall clients with high-quality installations.
The concerted initiative underlines the increasing importance of solar air heating technology. Around the world, manufacturers of solar air collectors are currently experiencing high growth rates. Many new companies are trying to or have just entered the market.
More information:
http://www.solarwall.com
http://www.gmmccrossin.com
http://www.ironworkers.org