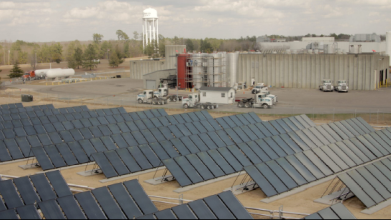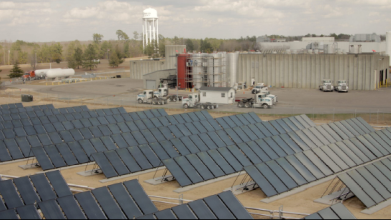 USA: Contractor Runs 7,804 m² Collector System at Prestage Foods Factory
There is now one more solar process heat installation in the US – and it is one of the country's largest, too. Since October 2011, more than 50 people were working onsite, 7 days a week, to put the system in place. 84,000 ft2 of collector area (7,804 m2) are going to supply an estimated 100,000 gallon (378,541 litres) of hot water (160-180 °F = 71 to 82 °C) per day. The water will be used in the turkey processor´s company in St Pauls, North Carolina. Contractor and owner of the solar thermal system is FLS Energy, one of the major developers of commercial solar thermal installations in the US. The commissioning of the new system was officially announced at a press conference at the beginning of April.
Photo: FLS Energy
FLS Energy is said to provide hot water 24 hours a day at a rate that is lower than the previous energy supply with propane. To replace Prestage Foods' current energy source for hot water, the contractor has created a huge storage network of ten 25,000 gallon tanks (adding up to, all in all, 250,000 gallons or 946,350 litres). The high-quality flat plate collectors of the solar system supply energy to the boilers, which heat up the water to the necessary 160 to 180°F.
The collector field was set up on the grounds next to the factory. Each of the system's three construction stages involved the installation of an additional 700 flat plate solar panels which were delivered by US-American manufacturer AET Alternate Energy Technologies from Florida. "We do have a competitive process for selecting our vendors," Joanna Baker, Marketing Manager at FLS Energy, says about her company's choice of business partners. The solar thermal system also includes a customised pump station.
FLP Energy as the system owner profits from three different subsidy schemes. First, it receives 30% in federal tax credits, another 35% in state tax credits from North Carolina and third, FLS Energy sells Renewable Energy Certificates (RECs) to electricity supplier Duke Energy Carolinas.
Prestage Foods has not invested any of its capital in the new solar heat supply. "We estimate that Prestage Foods will, on average, save 40% of the energy costs to heat water every year. The company uses propane fuel to heat water – the most expensive fuel on the market – besides heating oil," Baker explains. "We are happy to team up with Prestage Foods in order to reduce its dependence on propane and enable the company to reap the rewards of lower energy costs," says Brownie Newman, Vice President and Director of Financed Projects at FLS Energy. "It's a win-win situation for everyone."
FLS Energy, located in North Carolina, offers turn-key solutions and owns commercial solar thermal and photovoltaics systems in the southeast of the United States. According to the company´s own information, FLS Energy has grown from 3 employees in 2006 to over 80 today. Just recently, in September 2011, the New Energy Capital Cleantech Infrastructure Fund has invested USD 12 million in FLS Energy to support the company in quickly growing even further. "We have been looking for an investor who really understands the clean energy markets – not just solar electric, but also solar hot water," Michael Shore, CEO of FLS Energy, says. "New Energy Capital was the only investor we talked to that really understood our business." According to Inc. Magazine, FLS Energy was ranked the 46th fastest-growing company in the US in 2011. It was also among the top 25 "Companies to Watch" in North Carolina, according to the Council for Entrepreneurial Development (CED).
More information:
http://www.flsenergy.com
http://www.newenergycapital.com/