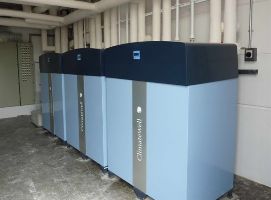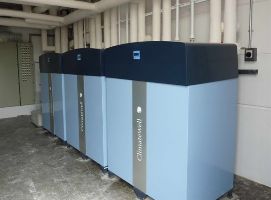 USA: ClimateWell wins Technology Contest of General Electrics
ClimateWell AB, located in Stockholm, is one of 12 companies which were chosen among 4,000 applicants in a ten-week contest organised by US-American General Electric Co (GE). ClimateWell won in the Efficient Appliances category and received a USD 100,000 concept stage grant. Since 2008, the Swedish company has run a production unit for absorption chillers in Spain, similar to the system shown in the picture.
Photo: Kingspan
In the middle of November, GE and its venture capital partners announced a collective investment of USD 55 million into leading technology companies in the fields of energy efficiency, energy storage, utility security, energy management software and electric vehicle charging services. The initiative is part of the "Ecomagination Challenge" started in 2005. GE provides about USD 45 million of the funds, and the remainder comes from its venture capital partners Emerald Technology Ventures AG, Foundation Capital, Kleiner Perkins Caufield & Byers and RockPort Capital Partners.
"One of the 12 companies will likely be acquired and the rest will be partnerships," GE Chief Executive Officer Jeffrey Immelt announced during the official award ceremony in New York. Immelt said in an interview that he was intrigued by the solar-powered air conditioner made by ClimateWell and that he saw some "boutique" products coming from the process. The absorption chillers are run on solar-powered hot water instead of electricity to maximise energy efficiency and reduce electricity consumption.
ClimateWell confirmed in a November press release that it was now working with GE to establish the chiller technology in additional markets already served through GE's appliances business. ClimateWell CEO Per Olofsson sees a big chance in the cooperation with GE. "Our products require planning, investment, installation and maintenance. To establish that worldwide takes time and resources". As a global player, GE is thought to be the right partner for a cooperation. Olofsson also thinks that the two companies are a good, "strategic match regarding the product portfolio and the service network".
GE's Digital energy Division, with about USD 2 billion in revenue, will continue to grow at about "20 % plus" annually, Immelt is quoted in a press release. Power plant equipment built by GE produces one third of the world's electricity.
More information:
Ge.ecomagination.com
http://www.climatewell.com