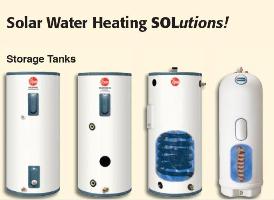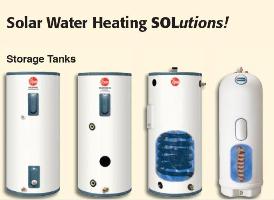 USA: A.O. Smith, Rheem and Bradford White discover Solar Technology
The three major US-American water heater manufacturers – A.O. Smith, Rheem and Bradford White – are pushing into the solar thermal sector. All of them specialize in solar water heaters in the size of 60 / 80 and 120 gallons. Rheem and A.O. Smith additionally offer entire kits by purchasing collectors from OEM manufacturers. Photo: Rheem
Three companies dominate today's water heater market in the US: A.O. Smith, Rheem and Bradford White. Together, they supply more than two-thirds of the gigantic market volume of around 8 to 9 million electric and gas water heaters per year. What divides those companies is the way they position themselves on the solar water heater market: Whereas Rheem and A.O. Smith Corp. offer solar water heaters with purchased collectors, Bradford White has specialized in the production of solar tanks in many different configurations and is currently not offering complete kits for solar water heater systems. They, however, face a common challenge: All three of them still have difficulties with delivering tanks with two coils larger than the typical sizes of 60 / 80 and 120 gallons (227 / 303 and 454 litres), that are needed for solar combi systems covering space heating and hot water demand.
A.O. Smith partners with Israeli company Chromagen
In April 2010, A.O. Smith entered into a strategic cooperation agreement with Israeli collector and tank manufacturer Chromagen. The agreement grants A.O. Smith the exclusive marketing and distribution rights when using Chromagen's solar collectors in residential and commercial solar water heaters in the United States and Canada. "We provide A.O. Smith with our CR110 collectors including a laser-welded aluminium absorber and an EPDM seal with either a sputter or a selective paint coating," Dorit Cohen, International Sales Manager at Chromagen, explains. "We continue selling to our former distribution partners in this area through A.O. Smith."
The new partners Chromagen and A.O. Smith presented their products together at the Solar 2010, the conference and fair of the American Solar Energy Society (ASES), in Phoenix, Arizona, in May 2010. The above photo shows US-American environmentalist Jr. Ed Begley, who supports the launch, and Dorit Cohen, International Sales Manager at Chromagen, at the shared booth.
Photo: Chromagen
The first solar thermal heating package of A.O. Smith incorporating Chromagen collectors was launched under the brand name Cirrex on 9 April. The indirect and direct systems with an electric backup consist of two or three flat plate panels with 2.37 m2 each and an 80- or 120-gallon tank with an internal single-walled heat exchanger or an external double-walled version. "The next step will be the launch of a solar water heater with a gas back-up at the end of the year," Mike Parker, Vice President of Marketing at A.O. Smith, announced. The optimized package will feature a controller which directs the entire system. After the launch of the new system, the water heater manufacturer intends to finally tackle the difficulties of developing solar water heaters with tanks larger than 120 gallons.
Bradford White offers differently sized solar tanks
Bradford White launched its product line Ecostor, including an internal heat exchanger, at the beginning of 2009. "To fulfil the request of some solar market customers, we offer the Ecostor models optionally with a single-walled or a double-walled coil," Jason Fifer, Product Manager at Bradford White, explains. The product line includes models with electric and gas back-up systems and offers the typical volumes from 60 to 120 gallons. Bradford White sells its tanks to wholesalers and OEM customers. And how about larger tanks of more than 500 litres? "We are planning to offer larger solar tanks through our sister company Niles Steel Tank that produces all kinds of large storage steel tanks in its factory in the state of Michigan," answers Fifer. Niles Steel Tanks has specialized in the production of stand-alone steel tanks for industrial applications and was purchased by Bradford White in 2002.
Rheem combines tankless gas water heaters and closed loop solar systems
Considering its manufacturing of solar storage and heat exchanger tanks and its Australian subsidiary Solahart, one of the oldest collector manufacturers worldwide, Rheem has already been in the solar thermal technology business for many decades. In the US market, however, Solahart had specialized in thermosiphon systems and it was not before May 2009 that Rheem launched pumped solar water heating solutions for the US-American market under the brand name Solpak. "We purchase the collectors for the pumped systems from our long time partner Sunearth in California," Jeff Mahoney, Alternative Energy Market Manager at Rheem Manufacturing Company's Specialty Product Division, explains. Sunearth is one of the biggest flat plate collector manufacturers in the United States, which has purchased tanks from Rheem for many years. Rheem itself runs four tank factories, two in the US state of Alabama and two in Mexico. The passive solar water heaters (thermosiphon) from Solahart are sold under two brand names: One is 'Solahart', for systems sold directly to solar dealers, and the other 'Solaraide', for systems sold through Rheem's wholesale distributors. The systems come in different capacities of 180, 220, 300 and 440 litres and possess an electric back-up.
According to Mahoney, there are two main challenges for Rheem in the US-American solar thermal market: to develop entire solar systems kits which will facilitate the work of installers and distributors, and to manufacture and supply bigger solar buffer tanks. "We will most likely tackle the gap of larger solar buffer tanks in 2011," announces Mahoney. As for the residential system kits, Rheem is simply waiting for the issue of the OG 300 certification to sell them countrywide. "We recently combined our very efficient tankless gas water heaters, with a closed loop glycol-filled system," says Jeff. The kits will be offered in different sizes for houses with 1 or 2 bathrooms and up to 3 bathrooms.
More information:
Rheem: http://www.rheem.com
Bradford White: http://www.bradfordwhite.com/
Niles Steel Tanks: http://www.nilesst.com
A.O. Smith Corp.: http://www.hotwater.com/
Chromagen Solar Energy Systems: http://www.chromagen.biz
Sunearth: http://www.sunearthinc.com