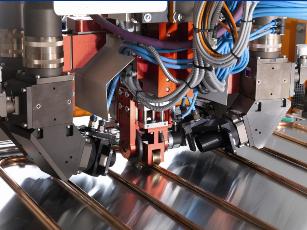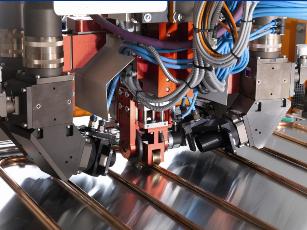 USA: Alanod enters into a framework agreement about royalties for laser-welded absorbers
In mid-November, Alanod-Solar Inc. and US collector manufacturer Heliodyne signed a framework agreement stipulating the payment of royalties for laser-welded collectors sold in the US. Photo: Vaillant
The reason behind all this: Heliodyne acquired the right of using US patent 6300591 in January of 2009. This patent by research institute Sandia National Laboratories deals with the laser-welding of absorbers – meaning no company can produce, sell or distribute collectors with laser-welded absorbers in the US without paying royalties to Heliodyne. The news from the US this spring was an unexpected setback for the German collector industry, whose majority of companies now employ laser-welding in their production processes. "We think it is very unfortunate that a much promising technology will be at a disadvantage on a market before it can even establish itself," Stefan Brändle, Alanod-Solar's Consulting Director Solar Applications, remarked back then. The company therefore invited its customers to a meeting in April to discuss which further steps it needs to take.
"We entered into the framework agreement with Heliodyne to avoid a situation in which our customers would have to directly notify Heliodyne of their quantities sold in the US," Alanod-Solar CEO Ingo Beyer explains the reason for concluding such an agreement. The agreement with the Californian collector manufacturer includes a basic, one-time royalty and a royalty per feet of welding seam. Alanod-Solar, however, has not been willing just yet to make public the amount of royalties it agreed on.
"First, we will inform our customers in the US and in Europe and then enter into a written agreement with them about payment conditions," explains Beyer. "We will simply hand over the royalties – we will not earn anything from them." Alanod-Solar had already started operating a laser-welding plant for fin absorbers on its own premises in Cleveland, Ohio, at the beginning of 2009. This means that US companies using these fins have to pay royalties as well.
The collector manufacturers' first reaction to the news about finalizing the framework agreement was a reserved one: "We have to wait until after we spoke to Alanod and went through the content of the agreement before we can decide whether to accept the offer or consider alternatives," says Stefan Hirzinger, Product Group Manager for solar thermal and photovoltaics at Viessmann. Other manufacturers had no comment at all.
Some collector manufacturers with several suppliers of coated absorber sheets may not be pleased about the fact that Alanod-Solar wants to process only collector quantities equipped with their own coated aluminium or copper sheets.
More information:
http://www.heliodyne.com