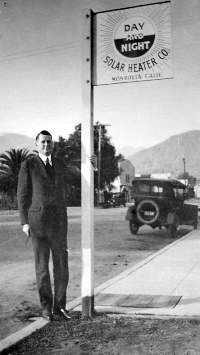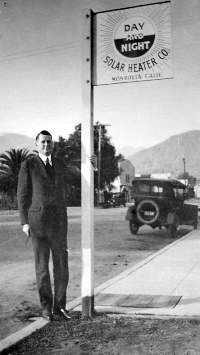 USA: 100th Anniversary of modern Solar Thermal Heater
Pioneering solar water heater technology in California: William J. Bailey, a clever business man from California, started producing solar water heaters in his company Day and Night Solar Heater Co. exactly 100 years ago. The technology was based on Bailey´s own patent, which was approved on 2 August 1910.
Photo: A Golden Thread*

"This was the hour of birth of modern solar thermal water heaters," John Perlin, US-American author, pointed out in his presentation '100th anniversary of flat-plate collectors for solar water heating' at the Eurosun in Austria this October. The patent described the first solar hot water system which consisted of a flat plate collector and a separate storage tank. Beforehand, solar water heaters consisted of black-painted, water-filled storage tanks, which were left on the roof and lost quite a bit of energy during the night. Bailey´s new system made it possible to shower 'day and night', which gave the technology a big boost.
From the factory of Day and Night Solar Water based in Monrovia, 10 miles southeast of Los Angeles, the solar water heaters were distributed in California, as well as Arizona and Hawaii. The company had sold 7,000 units until they stopped the business in 1941. What had happened? "Natural gas was found in California in 1920 and people stopped using solar," explains Perlin.
John Perlin researched with great enthusiasm in the 1970s, and co-authored the book "A Golden Thread. 2500 Years of Solar Architecture and Technology" in 1980, which also includes one chapter about the last 100 years of modern solar thermal architecture.
Photo: Bärbel Epp
But solar water heaters did not disappear from the North American continent, they rather migrated to Florida. Miami-based Solar Water Heater Company purchased the license from Day and Night Solar Water Heater Company and was, again, very successful with solar water heaters of the first generation. According to Perlin, 50 % of the residential houses in Miami had solar water heaters on their roofs by the beginning of the Second World War. An advertisement from the year 1937 speaks about 15,000 satisfied owners of the all-metal Duplex Solar Water Heater. From there, solar thermal technology found its way to the Caribbean – especially Barbados became a famous market – but also to South Africa and Israel, countries in which collector manufacturing goes back a long time.
A true testament to the early use of solar thermal technology in Florida: These collectors have produced hot water on the roof of an apartment building since 1923.
Photo: John Perlin

A month before the Eurosun, Perlin searched the rooftops of Miami for the oldest working solar water heater. After finding hundreds of relatively young ones – seventy or seventy-five years in operation – he finally hit the jackpot: a row of solar water heaters installed 87 years ago providing hot water for tenants in a two-storey, eight-unit building (see photo above).
*"A Golden Thread: 2500 Years of Solar Architecture and Technology" is a book by John Perlin and Ken Butti published in 1980. The authors are looking for a publisher to produce a revised edition of "A Golden Thread".
Contact: John Perlin at johnperlin@physics.ucsb.edu