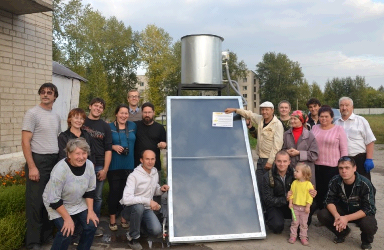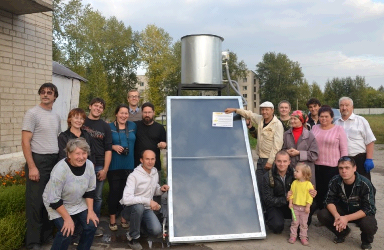 Ukraine/Georgia: Women for a Sunny Energy Supply in EECCA
Energy poverty is a widespread phenomenon throughout Eastern Europe, the Caucasus and Central Asia (EECCA). Many poor people living in these regions can hardly pay the ever-rising electricity costs. To heat their houses in winter, they are often forced to burn wood, diesel or any other thing they can find, such as plastic – with all the harmful impacts on the environment. "Switch to the sun – live in comfort!" is what activists of Women in Europe for a Common Future (WECF) tell them in such a situation. WECF, an international non-governmental network of women's and environmental organisations, is committed to helping people in rural areas in the Ukraine, Georgia and other countries of the EECCA region gain a sustainable energy supply, mainly by utilising solar water heaters. The photo shows the participants of a workshop with the newly built solar water heater in the city of Kamensk-Uralsk, Russia.
Photo: WECF/Ecoclub Ukraine
With its political turmoil, the Ukraine is currently one of the hot-button issues in global news just as it was after the Chernobyl catastrophe in April of 1986. Many Ukrainians still feel the aftermath of the nuclear disaster at the country's most notorious power plant, as cancer is still a common disease in the country. It may also explain why recent surveys show most people in the Ukraine opposing nuclear energy and seeking ecological and healthy alternatives in electricity generation and heating. And in Georgia, people have known at least since the 2008 war with Russia that an independent energy supply can only be of benefit to the country. WECF women have been active in both post-Soviet states since 2007, carrying out information campaigns and installing solar water heaters in order to promote solar thermal energy and building insulation as eligible options for a more ecological, healthy and independent energy supply.
"Acceptance of solar thermal energy could be the basis for a new energy strategy and for achieving the climate goals," Katharina Habersbrunner from the Munich branch of the WECF says. The network is trying to convince decision-makers of the advantages of solar thermal energy use, for example, in the Ukrainian district of Manevychi, across which people are used to heating with radioactively contaminated wood. Another example is the mountainous region of Akhaltsikhe in southwest Georgia, where deforestation has become a serious problem. "We train local people to assemble budget-friendly solar water heaters with materials they can buy in their local shops, so that they don´t have to rely on expensive imports," Habersbrunner explains part of the organisation's approach. Another important aim is capacity building by training craftspeople to maintain and repair solar thermal systems. Since last year, Ukrainians and Georgians trained by the WECF team have been sharing their expertise with people in twelve villages in the neighbouring countries of Russia, Moldova, Armenia and Azerbaijan.
Women and men are equally involved in planning and construction
In addition to ecology, health and affordable sustainability, gender is a crucial issue when it comes to energy supply, Dr Anke Stock, lawyer and senior advisor on gender and rights at the WECF, is convinced. "Women in the Ukraine suffer more than men from the lack of warm water, since they depend on it for fulfilling their daily chores," she outlined at the seminar Gender Mainstreaming in Environmental Policy Making, which was organised by the United Nations Economic Commission for Europe (UNECE) in Geneva, Switzerland, in February 2014. Stock said that women and girls often did the hard and time-consuming work of collecting the fuel materials for heating water. "In our projects, women and men are equally involved in the planning, construction, maintenance and monitoring of the solar collector systems," she stated in her keynote speech (Gender in Environment: Key challenges and success stories). By raising awareness about new technical solutions, women could gain access to spheres of local and national decision-making bodies traditionally dominated by males, she explained the gender-specific benefit of the WECF campaigns in the EECCA region.
More information: