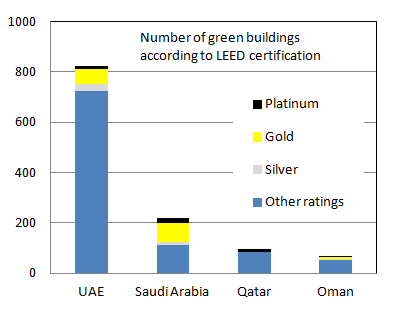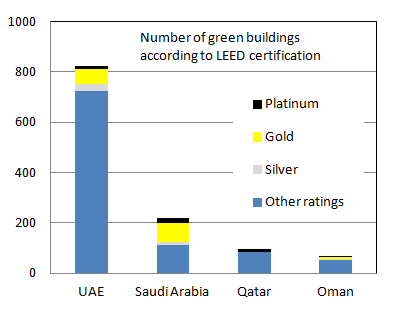 UAE: Green Buildings Certification and Impact on Solar Technology Deployment
The countries in the Gulf region have taken the path of mandatory green building certifications instead of solar building obligations, with the United Arab Emirates (UAE) leading the ranking on the highest number of green buildings: 823 of an overall 1,281 green premises in the Gulf nations are located in the UAE. Saudi Arabia, Qatar and Oman follow far behind. The ranking is based on information from online database http://www.usgbc.org/projects, which includes 80,917 premises certified according to the Leadership in Energy and Environmental Design (LEED) rating system developed in the USA. The global database is managed by the US Green Building Council (USGBC) and shows that the other Gulf countries – e.g., Bahrain, Yemen and Kuwait – only have 15 buildings altogether. The country with the largest share of highly ranked buildings with Silver, Gold or Platinum is Saudi Arabia, where green headquarters seem to provide a great PR boost for companies and institutions.
Source: USGBC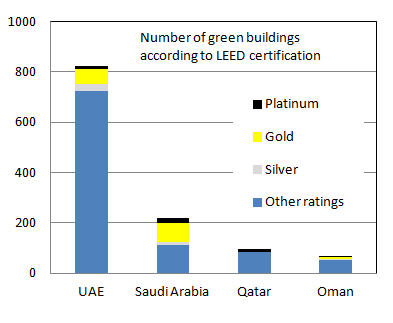 "Green building guidelines and best practices are being adopted across the UAE. In fact, today, a sustainably built environment is being integrated as an essential part of the development policy framework," explains Saeed Al Abbar, Chairman of the Emirates Green Building Council. Each of the seven emirates has their own implementation guidelines to promote sustainable building. So far, most green building rating systems have been voluntary for the construction industry, but this seems to change step by step.
Pacific Controls, one of the leading information and communication technology solution providers, promotes its green Platinum-rated headquarters in Dubai
Photo: Pacific Controls
The frontrunner was the Emirate of Abu Dhabi, the largest of the UAE emirates, with a five-level rating system called
Estidama Construction Rating Certificate
. Since 2010, all new construction projects – offices, restaurants, banks and supermarkets, as well as multi-family buildings, schools and mixed-use buildings – have been required to achieve a minimum rating of one pearl, public buildings even need two pearls. Second place went to the municipality of Dubai, the capital of the second-largest emirate of the UAE. According to Al Abbar, "the Dubai municipality has issued a circular in 2014 making the existing green building regulations mandatory for the private sector from 1 March 2014 on, after first introducing it as mandatory for government bodies."
"Promoting renewables is one aspect of sustainable building"
The interesting question is now whether these green building rating systems will increase the deployment of solar heating and cooling technology in the UAE. The Chairman of EmiratesGBC agrees: "Yes, of course, promoting renewable energy is one of the aspects of sustainable building and exploring options for environmentally friendly solar heating and cooling technologies is bound to gain momentum in the UAE." However, it should be emphasised that on-site production of solar heat or solar electricity is only one of more than 60 criteria within the LEED certification process. Thus, it is expected that only highly ranked buildings will include a solar heating or cooling system.
To evaluate the impact of LEED certification on the utilisation of solar energy, the 11 platinum-certified buildings in the UAE are described in the table below: Three have a solar cooling system, one a solar hot water system, two a PV system and five buildings have no on-site renewable production and no green power purchase. Consequently, every second building uses solar energy (so far so good), but looking at the overall statistics, only 11 buildings out of the 823 green buildings in the UAE carry a platinum label, and only half of these use solar energy actively, which corresponds to a very small share of less than 1 % of green buildings with solar energy.

Buildings with
LEED Platinum
Certificate in the UAE

Points
achieved /
total possible
score

Points achieved
in Energy and
Atmosphere / total
possible score

Solar Energy
usage

Pacific Controls HQ Building Dubai

55/69

n/a

Solar cooling and solar PV

Sheikh Zayed Desert Learning Center

54/69

13/17

Solar cooling with 8 % on-site renewable energies, 35 % green power purchase

ESAB Middle East FZE Dubai

53/69

53/69

Solar cooling system with 12 % on-site renewable energy (3 points)

Panasonic Avionics Dubai Municipality

80/110

26/35

PV and solar thermal with together 11 % on-site renewable energies

The Change Initiative TCI, Dubai

107/110

40/37

PV system (two points), power purchase (2 points)

TLM International FZE Dubai

52/69

16/17

PV system with 12 % on-site renewable energy

Spacewell Design Hub Dubai

87/110

28/37

No on-site renewable production, but green power purchase

Bloomberg Dubai

80/110

31/37

No on-site renewable production, but green power purchase

Du Retail Store-Fujairah City Centre

86/110

33/37

No on-site renewables, no green power

Dubai Chamber of Commerce and Industry

81/110

26/35

No on-site renewables, no green power

Tecom Management Office Renovation Dubai

43/57

9/12

no on-site renewables, no green power
Eleven buildings in the UAE certified with LEED Platinum and their results in the category Energy and Atmosphere.
The Emirates Green Building Council (EmiratesGBC) was the eighth member of the World Green Building Council founded in 2002 and the first GBC in the Middle East region. The independent non-government organisation serves as a key facilitator of the sustainability movement in the UAE by offering dynamic platforms for all stakeholders in the construction industry, as well as the public to interact, build capacity and implement green building practices. EmiratesGBC is not a registering body, but an independent forum strengthening and promoting the different rating systems, be it Estidama or LEED.
More information:
Emirates Green Building Council: emiratesgbc.org/