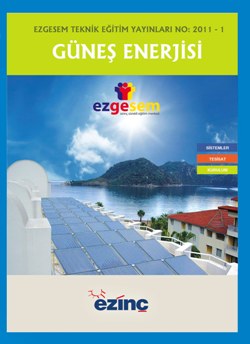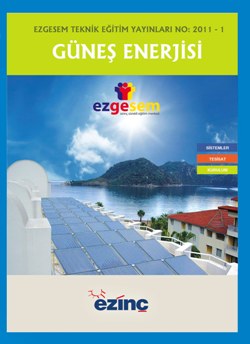 Turkey: Güneş Enerjisi – Book on Solar Thermal Technology in Turkish
Ezinç Metal, the biggest solar thermal manufacturer in Turkey, has just published a book about the use of solar heating. The 110-page document entitled 'Güneş Enerjisi' describes in Turkish the potential of solar heating, and the different collector and tank technologies Ezinç has been offering. It also includes a chapter on mounting issues, one on additional components such as pumps and expansion vessels, and several hydraulic schemes for smaller and larger systems.
"We are planning to distribute 10,000 copies of this book and other titles over the next five years," the company's General Manager, Hakan Alas, announced at the Intersolar in Munich at the beginning of June. The main distribution channel is Ezgesem, Ezinç' training centre at the headquarters in Kayseri, comprising two classrooms with education equipment, and two installation and testing facilities.
Professional courses for installers and engineers are offered charge-free at the training centre Ezgesem in Kayseri, Turkey.
Photo: Ezinç
Ezgesem opened its doors last October. It aims at offering training courses for all strata of the society. "Turkey is one of the largest solar thermal markets worldwide. But we definitely have not enough skilled staff in solar thermal for planning, installation and after-sales service," Alas explains the motivation behind creating the training centre. "Usually, installers can't get formal or academic education: they learn the job from their boss or foreman. As the leading solar thermal company in Turkey, we felt it was our social responsibility to fill the gap."
The centre's training calendar offers workshops for school children, as well as several-day seminars for young university students or teenagers. There are also long-term training courses for engineers, planners and installers. All of them are free of charge. "We have trained around 640 people since the start in October 2010," says Alas. The long-term courses for engineers and installers include theoretical lessons on designing principles of solar water heating, space heating, pool heating, process water heating, and air heating, as well as practical trainings on how to correctly install thermosiphon and pump forced solar thermal systems.
More information:
http://www.ezinc.com.tr
http://www.ezgesem.com/