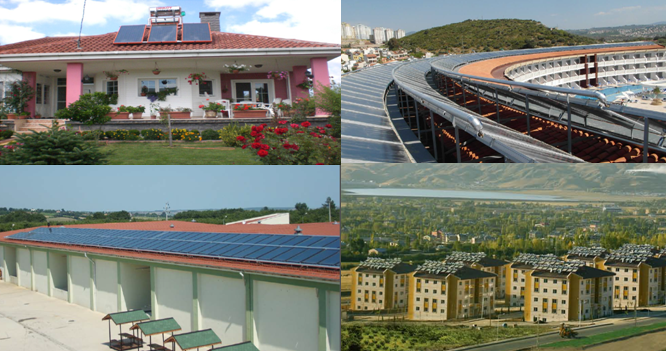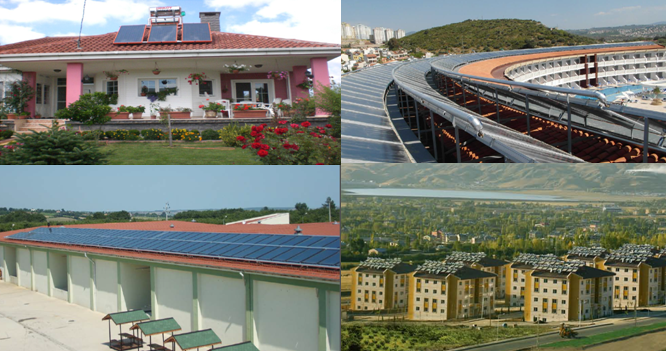 Turkey: Great Achievements with Little Policy Support
The interest in technology and market research on the solar heating and cooling sector is growing. The number of countries participating in the IEA Solar Heating and Cooling Programme (SHC) increased significantly over the last two years from 20 to 25 nations. One of the most recent entries was Turkey in 2014, represented by GÜNDER, the Turkish Section of the International Solar Energy Society (ISES). Turkey is the second-largest market after China regarding new solar thermal installations and a gateway to the MENA region, SHC chairman Ken Guthrie praised the new member in a press release this February. Large-scale installations in prisons, hotels and social housing projects are gaining in volume (see photos). The majority of the 20 key solar thermal markets worldwide are now members of the IEA SHC except for India, Brazil, USA, Israel, Greece, Japan and Poland.
Photos: Günder
"Turkey's official participation in the SHC programme comes just at the right time, as our solar market is well-positioned," Dr Kemal Gani Bayraktar, President of GÜNDER, emphasised during the Executive Committee Meeting of the SHC in Rotterdam, Netherlands, in June.
The past achievements of the solar thermal sector in Turkey are impressive:
Establishment of a strong supply chain with over 90 manufacturers, about 800 sales points and around 3,000 installers;
At least 1.5 million m2 of collector area produced and installed per year;
16 million m2 of collector area in operation;
132,121 families in rural areas who have received a subsidy for solar water heaters between 2004 and 2013 from a project funded by the General Directorate of Forestry, Department of Forest and Village Relations (ORKOY) to avoid deforestation;
Increasing number of large-scale solar installation in the public sector, for example, at prisons and multi-family buildings.
"Recent regulations on renewable energy use along with energy efficiency requirements have created many opportunities for the solar energy and HVAC sector," Bayraktar added. The increasing awareness of renewables in policy has been caused by the high costs of imported energy, which add up to USD 60 billion annually, a forth of total imports.
Building Directive recommends renewable use at new premises
The first step was accomplished by drafting an EPBD, an Energy Performance Building Directive (Binalarda Enerji Performansı Yönetmeliği), in 2008 (see the attached document in Turkish). The regulation applying to new buildings was revised and came into force in 2010 at the time of the corresponding EU directive. "It only recommends that the builder check the potential of renewable energy use for newbuilds. Changing that into a mandatory installation requirement is one of our targets," Bayraktar explained. GÜNDER's president sees the increasing use of solar hot water systems in the commercial building sector already influenced by the EPBD.
National Renewable Energy Action Plan sets sector targets
The second step in renewable energy policy followed at the beginning of 2015, when the Ministry of Energy and Natural Resources published a National Renewable Energy Action Plan (see the attached document in English)  in accordance with the RES2020 targets and the NREAPs which each EU member state set up in 2010. As always, the sector targets for renewable electricity are more ambitious than the targets for solar heating and cooling. The most ambitious growth is planned for the transportation sector, which is to increase its renewable share from 0.07 in 2012 to 10.08 % in 2015.
| | | |
| --- | --- | --- |
| Sector | Base year 2012 | Target year 2023 |
| Share of renewables in gross final consumption for heating and cooling | 12.54 % | 14.16 % |
| Share of renewables in gross final consumption for electricity | 27.02 % | 37.57 % |
| Share of renewables in gross final consumption for traffic | 0.07 % | 10.08 % |
| Share of sourced renewable energy in total gross final consumption | 13.48 % | 20.47% |
Renewable targets by sector, taken from the Turkish Renewable Energy Action Plan (REAP) set up in December 2014
The Turkish REAP also does not include measures to foster the growth of solar heating and cooling. There is still hope that the meeting of the international research and industry community for the next international Conference on Solar Heating and Cooling for Buildings and Industry, SHC 2015, in Istanbul in December 2015 will raise policy maker's awareness of the needs for binding targets and a suitable support structure for the renewable heating and cooling sector as well.
More information:
http://www.gunder.org.tr
http://www.iea-shc.org
http://www.shc2015.org/home.html