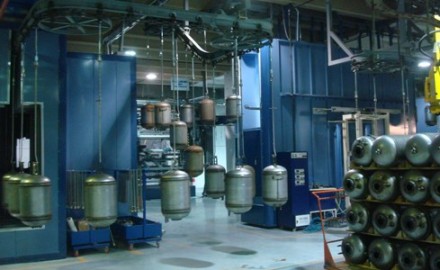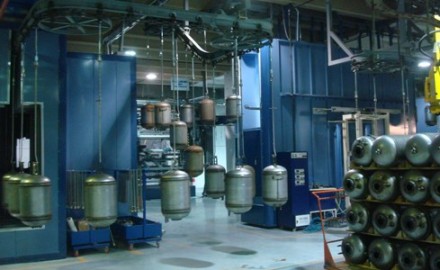 Turkey: Baymak invests US$ 10 million in new Tank Factory
Heart of Baymak's new tank production factory in Tuzla near Istanbul, Turkey, is its automated, enamelling line: The production capacity has increased from 75,000 to 175,000 tanks per year.
Photo: Baymak
Turkish manufacturer Baymak A.S. has more than doubled its tank production capacity in recent times. While the opening ceremony is planned for 22 August, the company's new tank factory already started serial production in the middle of July. Its annual capacity is at 175,000 steel tanks, whereas so far, the total production capacity had been 75,000 units. The new facilities include a ground area of 7,000 m2, which is just over a tenth of the total area of Baymak's industry complex in Tuzla (60,000 m2).
It was back in January 2010 when Baymak implemented its new investment plan for the enamelling line for storage tanks between 50 to 1,000 litres. Placing the orders for machinery was followed by a four-month period of delivering the machinery equipment and completing assembly at the end of June. The total investment added up to US$ 10 million and consists of welding and enamelling lines, as well as assembly lines.
When asked about the special features of the new production line, Export Deputy Manager Tacnur Yilmaz replies: "We are using pulse-arc welding for the first time in automated welding machines". In contrast to MAG welding at 3,000 °C, which is usually performed manually, the pulse-arc welding needs higher temperatures of 4,000 °C. According to the company, the advantage is that the weld can be better controlled, which minimizes the deformation of material due to heat differences and makes post-processing of tanks, such as stoning, less frequent. Pulse-arc welding has already been a standard technology in automated tank factories for several years.
New assembly lines in Baymak's tank factory: Tank dimensions vary between 50 and 1,000 litres for enameled tanks and up to 5,000 litres for buffer tanks.
Photo: Baymak
Another feature of the highly automated factory is the integration of the spray cleaning process for the boilers into the enameling line. Baymak uses two enameling lines: one fully automated, wet enamelling machine and one power enameling machine. The wet enamelling machine consists of a U-type furnace, which allows the tanks to enter and leave the furnace from the same side and have them pass through different temperature zones in the oven.
Baymak is a joint venture between its Turkish CEO and the Baxi Group, which established BDR Thermea in November 2009 together with the De Dietrich Remeha Group.