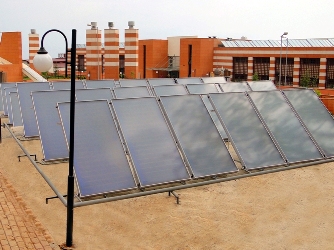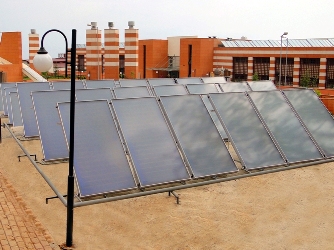 Turkey: 5-Year Payback Time for Solar Hot Water System in Student Hostel
The student hostel of the University in Trabzon at the north coast of Turkey enjoys ideal conditions for solar water usage. When the 762 m2 collector field was mounted on the roofs of the buildings, the hostel had already been equipped with six 10,000 litre tanks, which could have been used to store solar energy. This made the solar system, which Ezinc – Turkey's biggest collector manufacturer – set up this summer, a very cost-effective installation. Only EUR 120,000 were needed for the collector field, the mounting sets and the installation, translating into a payback time of five years.
Photo: Ezinc
"We were commissioned by the University of Trabzon to plan and install the entire solar water heating system," explains Fatih Icik from the Ezinc's Export Department. "Our team did the installation on its own, without the involvement of external plumbing companies." Ezinc installed 274 Superline XL FSB collectors, which are equipped with a full plate selective copper absorber, a low-iron solar glass, mineral wool insulation and an electrostatic powder-coated aluminium frame. It was the first time that Ezinc delivered a large-scale solar water heating system with meander-type pipes operating in low flow.
The specific costs of the solar system – including collectors, mounting system and installation – was a mere 175 EUR/m2. The annual output of the system is estimated to be 698 MWh or 916 kWh/m2 of collector area, with a solar share of around 60%. The system provider expects annual savings of 77,921 m3 of gas-fired backup, which would add up to a financial saving of around Turkish Lira (TRL) 60,000 (EUR 24,700) based on a current gas price of 0.77 TRL/m3.
The expected savings will lead to a short five-year payback time of the EUR 120,000 investment, which may be why the University of Trabzon did decide on the project – as they did not receive any public support or grant for its solar thermal investment.
More information:
http://www.ezinc.com.tr