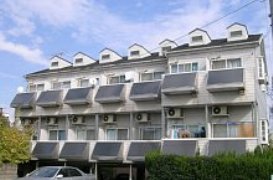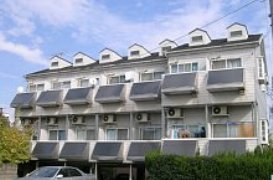 facade installation of Chiryu Heater
Tokyo: Green Power Certification System Pushes Solar Thermal
Japanese apartment house with flat plate collectors in the balcony: Is this the solar thermal future of Tokyo? In the next two years the Tokyo Metropolitan Government Office (TMG) wants to implement 40,000 solar thermal and photovoltaic plants. Photo: Chiryu Heater

This April, the Tokyo Metropolitan Government Office (TMG) introduced a new set of measures to cut down CO2 emissions and increase the solar thermal market share, among them a green heat certification programme and an incentive scheme.
 
In 2007, the TMG published a ten-year plan concerning climate change, which is thought to reduce CO2 emissions by 25% by 2020 and change the lives of Tokyo's citizens for the better. It additionally established a one-year solar promoting committee in the same year. One of the committee's proposals, the launch of a green power certification system using solar thermal energy, was realised in April 2009: TMG introduced the certification system in hopes of persuading house owners to purchase solar thermal and PV installations, thus creating a total of 40,000 new solar installations in households over the next two years.
The Tokyo Environmental Public Service Corp. (TEPSC), the governmental research institute for environmental protection, will grant subsidies to households on the condition that they transfer the environmental value (green heat equivalent) to TEPSC over a subsequent period of 10 years. A 3 m2 thermosiphon system will value at a grant level of YEN 30,000 (230 €/m2), whereas owners of forced circulation systems will receive YEN 100,000 per system – the equivalent of 800 €.
"The Tokyo initiative can reactivate the solar thermal market," Tetsunari Iida, researcher at the Institute for Sustainable Energy Policies (ISEP) in Tokyo said at the European solar thermal energy conference (estec2009) in Munich during the last week of May (see the attached presentation for more information). Tokyo has a population of about 12.8 million, or roughly 10% of Japan's total number. New policies in Tokyo city therefore have a noticeable impact on other cities and municipalities in Japan.
TMG will apply for certification of the requested green heat value system at the governmental owned certification organisation, Green Energy Certification Centre. The certification system allows Tokyo´s  own TEPSC to sell the green heat values to companies which do require a better CO2 footprint. It is called the Tokyo Cap and Trade Programme and is most probably the world first's urban emission trading programme of its kind. It will start in 2010 with the goal of reducing CO2 emissions by 15 % by 2014 and 25 % by 2020. "The final reduction rate is decided during this fiscal year", announced Iida in his presentation.
The focus is on those companies whose total consumption of fuel, heat and electricity tops an equivalent of 1,500 kiloliters of crude oil per year. These companies have to take on emissions trading with smaller companies or private households that can conserve energy and decrease CO2. One large scale enterprise in Tokyo might have the same emission as 3,300 households in Tokyo.
More information:
Tokyo Metropolitan Government Office (TMG): www.metro.tokyo.jp/ENGLISH
Text was written by communication expert Hanna Schober based in South Africa. Schober@solrico.com