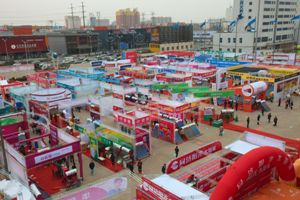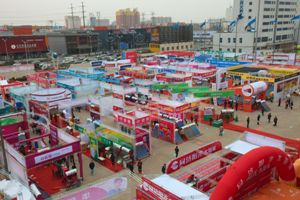 Three out of a dozen: Solar Thermal Fairs in China
One of many regional fairs in China: the outdoor exhibition space in Zhengzhou, a city in Henan province
Photo: Sven Tetzlaff
China is by far the biggest solar thermal market in the world. So, who would be surprised if China did not have the largest number of sector-related fairs worldwide. There are about a dozen relevant national events taking place in 2009 besides the regional fairs. Sven Tetzlaff, the solarthermalworld.org partner in Hangzhou, chose the three major ones.
The only fair and conference specifically targeted at the interests of the solar thermal market takes place in Changzhou, a city in the Jiangsu province, in September. The second Solar Energy Festival is organized for the third time by the Chinese Renewable Energy Society (CRES) and the China Association of Rural Energy Industry (CAREI). Last year, 80,000 visitors came to Changzhou and 500 exhibitors presented their latest solar thermal products. There is a conference taking place parallel to the three-day fair from 20th to 22nd September: the International Forum on Scien-tech & Economic Cooperation.
Solar thermal and photovoltaic technology will be showcased at the International Solar Energy Utilisation Exhibition in Jinan, in the Province of Shandong, in April (22nd to 24th). The fair takes place for the second time. It is organized by the CAREI and supported by the Shandong Provincial Government. 40,000 people visited the fair ground with 230 exhibitors in 2007. Starting this year, the fair should now take place annually.
The People's Republic´s biggest fair is the Canton Fair in Guangzhou, in the province of Guangdong. Many different technologies can be seen in the three weeks between the 15th October and 6th November. Solar thermal also has it´s place at the 150th canton fair in 2009, beginning at the 15th and ending at the 19th of October. The Ministry of Commerce is responsible for this mega event.
More information:
http://www.solarthermalworld.org partner in China, Sven Tetzlaff: mail@sventetzlaff.de
Second Solar Energy Festival, Changzhou: http://www.cn-solar.net/qjh.aspx (Chinese only)
International Solar Energy Utilisation Exhibition, Jinan 2007: http://www.tynw.cn/English/Solar.htm
International Solar Energy Utilisation Exhibition, Jinan 2009: http://www.ch56.com (Chinese only)
Canton Fair, Guangdong: http://www.cantonfair.org.cn/en/index.asp