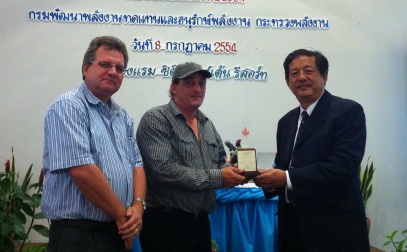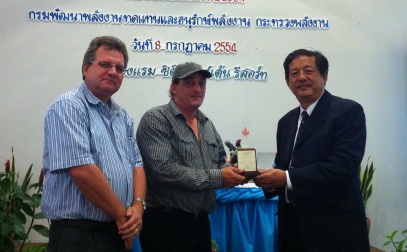 Thailand: Solar Process Heat in Leather Factory awarded
On behalf of the Thai Ministry of Energy, German engineering company Aschoff Solar has been awarded by the Department of Alternative Energy Development and Efficiency (DEDE) for the company's solar thermal installation at the Sadesa leather factory in Sena. Bernd Jueckmann (left), Sales Manager at Aschoff Solar, and Carsten Aschoff, Managing Director of Aschoff Solar, received the award from the hands of Prapon Kitichantaropas (right), Director of the Solar Energy Bureau at DEDE, during a conference held in Pattaya, Thailand, on 8 July 2011.
Photo: Aschoff Solar
The solar system in Sadesa – Leather for Leaders – was one of the top 5 solar thermal systems installed with the help of the commercial governmental subsidy programme 2010/2011. The other four systems supply solar thermal energy to a food mill, a hospital, a pig farm and a hotel.
"Our project was chosen by the jury because of its outstanding performance," explains Aschoff. "Energy savings of the 540 m2 vacuum tube gross collector area are expected to be as high as 650,000 kWh per year including the reduced losses of the existing boiler". This corresponds with a specific annual saving of 1,204 kWh/m2 collector area. The specific solar yield is supposed to be 950 kWh/m2a. The second distinct feature of the Aschoff solar water heating system is its 'Solar Command', a monitoring system allowing the customer online access to the energy saving reports and sending automatic reminders about maintenance and service issues.

540 m2 collector field on the roof of the Sadesa leather factory in Sena, Thailand Photo: Aschoff Solar
The collector field consists of vacuum tube collectors by Chinese manufacturer Sunrain. They supply hot water at 80 °C for re-tanning and are backed up by a thermal oil boiler. The collectors include water-filled double glass tubes, a common technology in China. The system was commissioned in February 2011. "The DEDE evaluations of the first operation period look promising. We are confident we can reach the calculated specific yield," says Aschoff.
The solar system is also a big win for the owner of the leather factory. With subsidies of 4,000 Thailand Baht (THB)/m2 (93 EUR/m2), the project will pay off in less than 1 year, says Aschoff Solar. "The leather factory is a very interesting business area for solar thermal technology, because green manufacturing is becoming more and more important to top brand customers and consumers of leather goods." The Sadesa installation was the first solar project that German company Aschoff Solar has realised in Thailand.
The governmental subsidy programme continues with phase IV in 2011, setting a target of 10,000 m2. DEDE will still accept applications until the middle of August. The subsidy level depends on the system's yield: 4,500 Thailand Baht (THB) /m2 are paid for closed loop installations reaching at least 800 kWh/m2/year. The level of subsidies for open loop systems with at least 800 kWh/m2 is at 3,500 Thailand Baht (THB) /m2, and the lowest amount with 3,000 Thailand Baht/m2 is paid for systems with a yield between 500 and 800 kWh/m2. The project of Aschoff Solar described above received 4,000 THB/m2 because the existing buffer tanks were not replaced.
More information:
http://www.aschoff-solar.com/
http://www.dede.go.th/dede/
http://www.sadesa.com