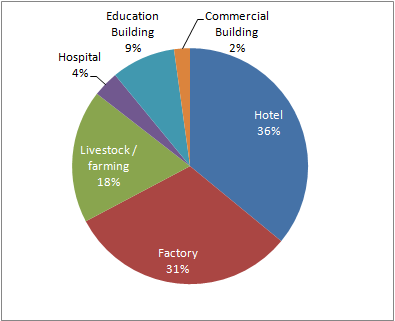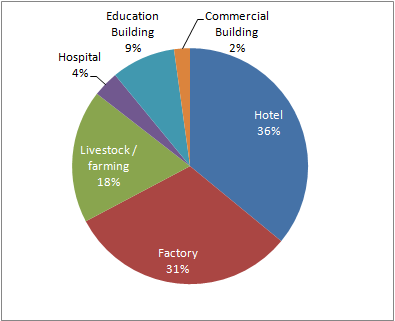 Thailand: Results of the Commercial Incentive Programme
16,880 m2 of collector area were subsidised between 2008 and 2010 in the Thailand incentive programme for commercial installations that are combined with waste heat from an air conditioner or boiler. According to the programme administrator, the Department of Alternative Energy Development and Efficiency (DEDE), hotels show the biggest share within the subsidy programme, followed by process heat applications in the industry.
Source: DEDE
Altogether, 76 clients profited from a subsidy of 4,500 Thailand Baht (THB)/m2 for close circuit systems or 3,000 THB/m2 for open circuit systems. The subsidy programme began with a subsidised collector area of 3,000 m2 in 2008 and 2009, which was increased to 10,000 m2 in 2010.
Yongyuth Sawatdisawanee, Director of Technology Analysis and Assessment at the Bureau of Solar Energy Development at DEDE, expects the incentive programme to continue in 2011. "This year is the last year of Phase I, and we will subsidise another 10,000 m2," announces Sawatdisawanee. The official start of the programme at the end of April has not yet been officially confirmed by the government. A budget of THB 45 million is foreseen in 2011 and the application period will most probably end on 1 August 2011. The table in the database of incentive programmes puts together the preliminary information about this year´s incentive programme.
According to Thailand's Renewable Energy Development Plan (REDP), Solar thermal should grow from an annual output of 1 ktoe (approximately 23,000 m2 of collector area) today to 38 ktoe in 2020 (approximately 880,000 m2 of cumulative collector area). The REDP launched in 2009 set up 15-year targets for all renewable energy sectors.
More information:
Solar Thermal Association (STA): http://www.stasolar.org
Alternative Energy Development and Efficiency (DEDE): http://www.dede.go.th