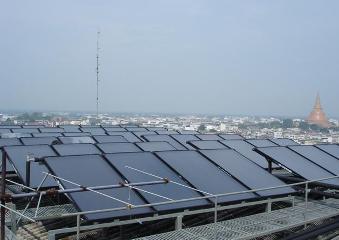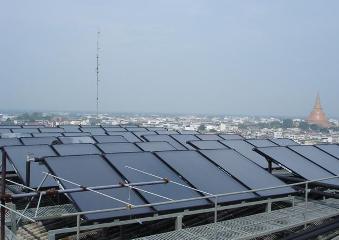 solar systems in Thailand
Thailand: Highly Interested Enterprises, But Low-Quality Systems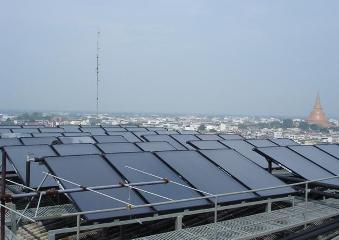 37 commercially installed solar thermal systems of between 50 and 500 m2 received subsidies in Thailand over the last two years. Nevertheless, the sector shows a lack of professional service to operate these solar systems at an optimum efficiency.
Photo: STA
The strategy of Thailand's Department of Alternative Energy Development and Efficiency (DEDE) has been a successful one since they started a governmental subsidy programme for commercial costumers in 2007: 37 solar thermal systems were installed with its support. "We are satisfied with the number of applying enterprises, but we are still not satisfied with the quality of the systems," Sawatdisawanee Yongyuth, the incentive programme manager at DEDE, stated after analysing the market situation. The results in detail:
The first year of the programme financed the drafting of feasibility studies.
DEDE then approved 17 applications in 2008, among them 9 hotels, 5 factories, 2 hospitals and 1 school – all in all, 4,000 m2 of collector area
2009 brought forth Phase II of the incentive programme, with 20 systems profiting from subsidies: 14 hotels, 3 factories, 1 hospital and 2 schools – a total of 3,000 m2 of collector area. The biggest installation was a food factory with 499 m2.
Phase II ended in September 2009 and was limited to 3,000 m2 of collector area in this very year. According to Yongyuth, phase III of the incentive programme is going to start at the end of April 2010 and is supposed to be limited to 10,000 m2 (for further details, see table below). The aforementioned, however, has not yet been officially confirmed by the government. The programme's manager also announced that phase III should be used to improve some of the regulations and conditions of the programme and therewith increase the general quality of the commercial solar thermal systems installed.
Thailand's Solar Thermal Association (STA) could play a crucial role in improving the standards of the solar thermal market (see attached presentation). "We want to make sure that our members are able to cope with the expected high demand in the sector," Samnao Pansang, President of the Association and Managing Director of the collector manufacturer Heritage International Development, stated in a message on the association's new homepage. STA began its work in January 2009 with 17 core members. "As of October last year, we had 22 members and more are going to be invited," announces Pansang. STA counts on an accelerated growth rate of 20 % annually over the next years. Between 1996 and 2007, the national solar thermal market grew with an annual rate of only 20 %.
More information:
Solar Thermal Association (STA): http://www.stasolar.org
Alternative Energy Development and Efficiency (DEDE): http://www.dede.go.th
Country /

region

 

Thailand

Name of

programme

 

Government subsidy programme Phase III

Type of incentive 

Subsidy

Eligible technologies 

Flat plate and vacuum collector

Applicable sectors 

Commercial customers

Amount 

4,500 Thailand Baht (THB)/m2 of thermal generation higher than 800 kWh/ m2 per year
3,000 THB / m2

 

of thermal generation lower than 800 kWh/m2

 

per year

Note: Flat plate collector from aperture area and vacuum tube collector from gross area

Requirements for system 

Hybrid system (solar collector and waste heat from air conditioner, boiler etc.)

Requirements for installation 

Minimum 40 m2 per project

Payback within 5 years

New project

Maximum 500 m2 per project

Finance provider 

Department of Alternative Energy Development and Efficiency (DEDE), Thailand
http://www.dede.go.th
Program is limited to 3,000 m2 for Phase III

Total funds 

13 million Baht for Phase III (July 2009 –July 2010)

Funding source 

Government

Effective date 

End of April 2010 (official start not yet confirmed by the government)

Expiration date 

December 2010

Website 

http://www.dede.go.th

Last review of this tabloid 

February 2010

Contact

Mr. Yongyuth


E-mail:

yongyuth_s@dede.go.th
Phone: +66/22230021 ext. 1481
Fax: +66/22217841