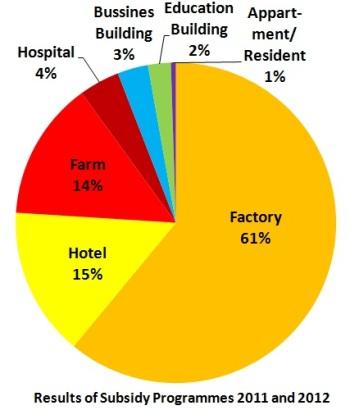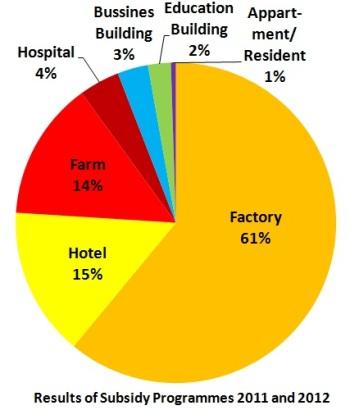 Thailand: Government Continues Subsidy Programme in 2013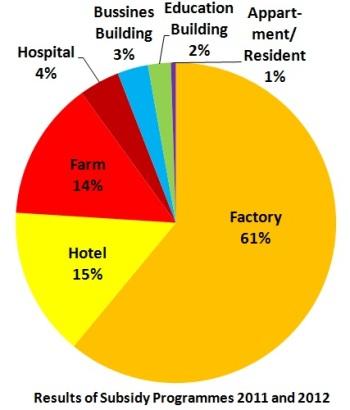 Since January 2013, the government of Thailand has continued to subsidise commercial solar thermal installations which are combined with waste heat from an air conditioner or boiler. The programme has been running since 2008 and phase VI in 2013 is limited to 25,000 m2 (see the database of incentive programmes). In 2011 and 2012, authorities paid out grants for a total of 21,034 m² of collector area. The chart shows the collector area share in different application areas over the last two years. According to the programme's administrator, the Department of Alternative Energy Development and Efficiency (DEDE), the majority of the subsidies went to process heat applications in the industry, followed by hotels, farms and hospitals.
Source: DEDE
Applications for the upfront investment subsidy have to be submitted by 30 June 2013. DEDE will pay the highest subsidy amount of 3,460 Thai Baht (THB)/m2 (86 EUR /m²) if all of the system components meet certain criteria. The following lists all subsidy rates at maximum levels and in reference to the collector area:
Solar collector: Between 1,357 and 2,007 THB/m2; in any case, the solar yield has to be above 500 kWh/m2 per year
Storage tank: 657 THB/m² for a stainless steel tank; the tank volume has to match the collector area – on average, 40 litres per m² of collector area
Hot water piping: 69 to 277 THB/m2 for copper stainless PPR-PN25 or PPR-PN20
Hot water pump, control system, data recording system, etc: 519 THB/m2
The programme only subsidises new hybrid systems, which combine solar collectors with the use of waste heat from air conditioners, boilers, etc. The minimum collector area is 40 m² per project. The collector area calculation is based on the aperture area in case of flat plate collectors or the gross area in case of a vacuum tube collector installation.
The program is limited to 25,000 m² in 2013, while its funds amount to THB 86.5 million (EUR 2.15 million). The table below shows the results of the Solar Water Heating Government Subsidy Programme in 2011 and 2012.
Year

Results

m²

Type of enterprise

Number of projects

2011

1,464

5,693

591

988

489

654

Hotels

Factories

Hospitals

Farms

Buildings: Education

Buildings: Business

7

16

5

1

4

9

Total

9,879

42

2012

1,655

7,128

262

2,006

104

Hotels

Factories

Hospitals

Farms

Flats & Residential

9

7

2

2

2

Total

11,155

22
Source: Department of Alternative Energy Development and Efficiency (DEDE)
The programmes were limited to 10,000 m² and 12,000 m² in 2011 and 2012, respectively. The number of subsidised systems in 2012 decreased because the size of the systems increased. The largest installation last year had a collector area of 1,500 m².
More information:
http://www.dede.go.th