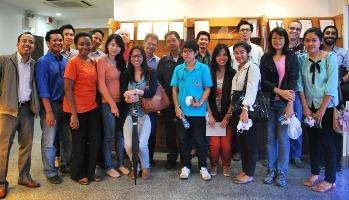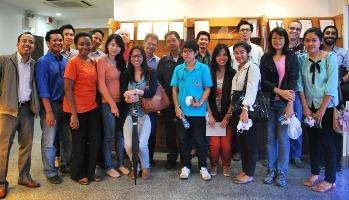 Thailand: Advanced Training in Large-Scale Solar Thermal Applications
The solar thermal week of the Thai-German Renewable Energy Advanced Training 2012 in Bangkok in September attracted a fair number of around 20 national and international participants (see photo). Professor Christoph Menke from the German University of Applied Sciences Trier (ninth from left) hold lectures on how to plan, mount and operate large-scale solar water heating systems for hotels and industrial processes. In addition to the solar thermal training, the three-week course for advanced learners also offered one week each for bio-energy and photovoltaics. The entire event was organised by the Thai Joint Graduate School of Energy and Environment (JGSEE) and supported by the German Academic Exchange Service, DAAD.
Photo: JGSEE
"The training has been developed for experienced solar professionals from the industry, for installers, as well as for Master and PhD students. Usually, the course attracts participants from very different backgrounds," Menke explains. He adds: "Our aim is to support the local solar industry in growing their engineering and monitoring capacity, which leads to advanced system design and performance." Because a lack of practical experience and knowledge is one of the most common and most important barriers to expanding renewable energy across South-East Asian countries, Menke had already offered two solar thermal technology trainings in Thailand last year, together with his partner Matthias Gebauer from German environmental consultancy ECOSCOP GmbH.
The course was originally developed for the German International Cooperation (GIZ) and the Thai Department of Alternative Energy Development and Efficiency (DEDE). It is based on the handbook "Solar Thermal Systems – Expert Knowledge for Successful Planning and Construction" by German Solarpraxis AG. The book has been officially translated into Thai and can be ordered from the DEDE.
"We use a set of 13 different PowerPoint presentations, ten check lists and an installation guide, which was handed out to the participants of the course in English and partly also in Thai," explains Menke. "We could offer this kind of training in other countries, too." The course usually takes 7 to 10 days and concludes with an exam. As part of the three-week DAAD training, the content was condensed into only 5 days. Still, the participants enjoyed the intensive education classes. "Prof Menke not only provided experiences and technology know-how from Germany, but also gave a lot of interesting suggestions on system design and policies," one participant says. A half-day visit to a large-scale system in a food company in Bangkok showed the trainees that there is still much to do when it comes to monitoring commercial solar water heating systems in Thailand.
Contact to Professor Christoph Menke:
University of Applied Sciences Trier
Department of Building Engineering Services
Office: + 49 (0) 651- 8103 – 368
E-mail: menke@fh-trier.de
http://www.dede.go.th/dede/index.php?lang=en
http://www.daad.de
http://www.daad.de/en/
http://www.jgsee.kmutt.ac.th/jgsee1/index.php
http://www.solarpraxis.de/en/
This news was written by Yaping Zhang, solrico partner from China (http://www.solrico.com).