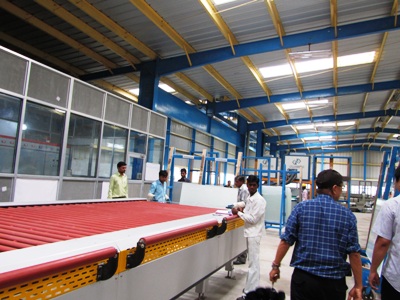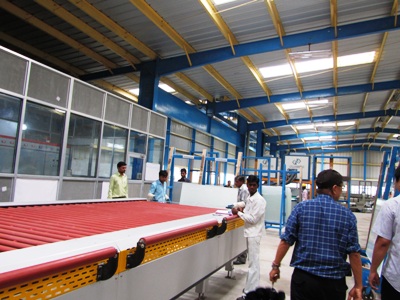 Tempered 2-millimetre glass from India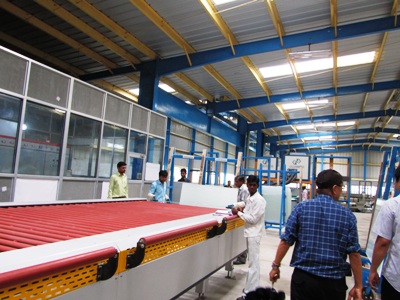 Gujarat Borosil has begun producing its first 2-millimetre tempered glass parts after 18 months of research. The Indian business had received a personal congratulatory letter from Prime Minister Narendra Modi, said Managing Director Shreevar Kheruka. It had invested Indian Rupee (INR) 2 billion (around EUR 26.67 million) in the facility. The technology targets the booming solar PV industry, but will likewise be offered to solar collector manufacturers. 
Photo: Jaideep N. Malaviya
According to Gujarat Borosil, current production capacity is at 6.5 million m². The company has been the first 2-millimetre glass producer from India to have its products tested in Europe. Glass samples were sent to German-based institute TÜV Rheinland in October 2017. A report from 7 December stated that the glass panels had passed the mechanical strength tests as per European standards EN 12150-1 [1] and EN 1288-3 [2].
"We have proven that India has the capability to produce world-class products," Kheruka said. "In the past, we had already exported our glass to European solar thermal manufacturers and this development will continue to strengthen our business spirit."
Not only is the 2-millimetre tempered glass lighter than the current global standard of 3.2 millimetres, but it also absorbs less solar energy while allowing a higher amount of solar radiation to reach the solar cell or absorber. Additionally, the 2-millimetre textured solar glass is free of toxic antimony and arsenic, which was eliminated from production in 2014.
More information: