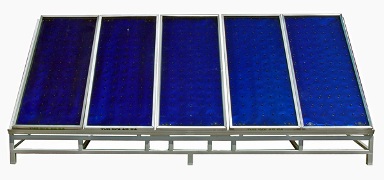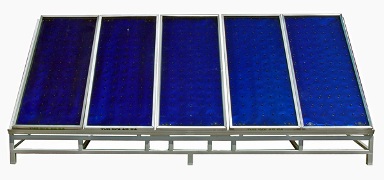 Switzerland: Flat Plate Solar Thermal Collector Manufacturer Relies on Vacuum Technology
The – literally – hottest collector innovation comes from Switzerland. TVP Solar has developed an insulated high-vacuum flat plate collector which supplies a heat transfer fluid between 100 and 200°C. This makes it an ideal thermal energy source for cooling and heating applications in the medium temperature range. The MT-Power panel was introduced at the European Future Energy Forum in Geneva last autumn and has now been nominated for the Intersolar Award 2012.
Photo: TVP Solar
The target markets for the MT-Power module are commercial and industrial applications requiring either cooling or heat for industrial processes running at temperatures between 100 and 200°C. According to TVP Solar, the high-vacuum insulation completely suppresses convection losses inside the panels and enables a solar-to-cooling conversion efficiency of above 70% (net of heat losses from piping) by using two-stage absorption chillers. The panel's record stagnation temperature of 330°C is achieved without any concentration.
The collector has an aperture area of about 1 m² and contains a 0.2 mm thick copper absorber, a corrosion-proof all-metal casing, a 5 mm solar glass cover without anti-reflective coating, and a patented, inorganic and flexible glass and metal seal. A lightweight support structure inside the panel ensures that the glass can safely withstand atmospheric pressures (10 tonnes per square meter).
The currently available collector is a pre-series model designed for pilot projects. The MT-Power panel has recently been tested by the ITW at the University of Stuttgart, earned the Solar Keymark certification and has been successfully keeping its performance up to a temperature of 200°C. In 2013, the panels will come in a more industry-friendly 2 m² standard, as soon as TVP starts operating its mass production facility.
"TVP's core patent describes a new way in which to join glass plate and peripheral metal frame, which guarantees a gas-proof environment for the high vacuum inside," says Dr Vittorio Palmieri, CTO and inventor of MT-Power. "The patented seal makes use of 'glassified' metal by applying a commercially available bonding compound called 'glass frit'. This compound has found a successful application in the cathode-ray tube industry for vacuum products that are to last over several decades. The MT-Power manufacturing process shares many similarities with that of vacuum displays, which means it can cope with very large volumes as well."
"With MT-Power, TVP Solar primarily targets air-conditioning applications for large commercial structures, such as data centres, shopping malls and office buildings," says CEO Piero Abbate. "By combining gas-driven chillers and solar thermal panels, we can supply cooling on a 24/7 basis – to save electricity and a significant amount of carbon emissions." According to Abbate, the payback time for a solar field in sunny countries with high costs of electricity, such as India, Brazil or the US state of California, is less than 6 years – without incentives.
"The nine months of testing MT-Power in the deserts of Morocco without any cleaning did not significantly affect its performance," says Dr Palmieri. "We have proven that our panels require virtually no maintenance thanks to their ability to capture both direct and diffuse light. This means that MT-Power is the ideal solution for any dusty, polluted, hazy or other location dominated by diffuse lightning."
Since January 2012, MT-Power panels have been tested at Masdar City for their future mass deployment potential in the fully carbon-neutral city, in order to provide air conditioning through a two-stage absorption chiller. TVP was invited to prove its product's ability to operate in dusty environments without maintenance by joining a testing programme originally based on state-of-the-art solar thermal concentrating products, which, however, require periodic cleaning, as well as maintenance of the tracking system.
More information:
http://www.tvpsolar.com
http://www.masdarcity.ae