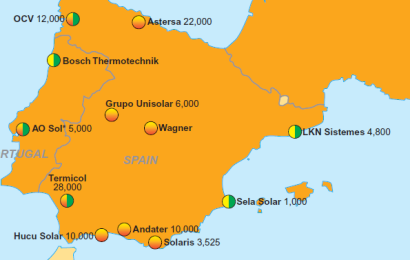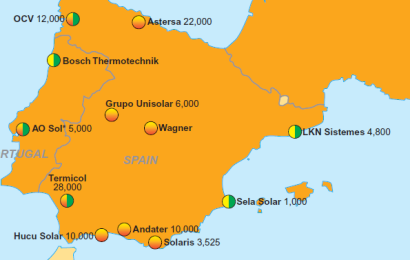 Spanish Collector Manufacturers expand Exports or abandon Production
The solar thermal industry in Spain is suffering from the country's crises in the construction and financial sector. The falling demand is driving some domestic manufacturers to expand their export business. Others have given up their manufacturing activities altogether. The map shows a selection of flat plate collector manufacturers from Spain. It is part of the Europe map of 2010's solar thermal industry published in the December issue of the international magazine Sun & Wind Energy (S&WE). Source: S&WE
The Spanish solar thermal market has experienced extreme up and downs over the last years. The technical building code, the Código Técnico de la Edificación (CTE), which mandates a 30 to 70 % share in generating hot water in new buildings and buildings undergoing major renovations, had been a blessing to the solar thermal sector, enabling a steady average growth of 63 % per year between 2005 and 2008. The rapid market development came to a sudden halt when the Spanish construction industry collapsed as a result of the financial crisis. In 2009, only 115,000 construction permits were issued – a figure way down from the more than 910,000 issued in 2006. Experts estimate that the overheated construction market has been the direct cause of between 0.9 and 1.5 million houses currently for sale or rent in Spain.
Facing a dwindling domestic market, some Spanish companies began to look to the export business as their saviour. One year ago, Termicol Energía Solar SA based in Andalusia hired Jacobo Romero Cortés to drum up business abroad. The company had its collectors Solar Keymark certified, and tests to qualify for the North-American SRCC certification label are still underway. Armed with the certifications, the company is hoping for increased revenue outside the country.
Another example is northern Spain's collector and tank manufacturer Astersa SA, founded in 2007, which has sold its products abroad since 2009. Managing Director Luis Lagar García now says that exports make up 26 % of sales, whereas in 2009 the figure was only 15 % of annual production volume. Competitor OCV S.L., which was founded in the same year as Astersa, claims that its export make up 40 % of the company's turnover. In 2009, however, OCV exported only 20 % of the collector area produced in the factory in Cambados in the northwest region in Spain. According to Marketing and Sales Manager Rafael Calvo, the company's goal will be to act primarily as an OEM producer in the future.
Export is one way to escape the shrinking Spanish market, but not a solution for every company. Granada-based collector manufacturer Andater, which just started producing solar thermal collectors two years ago, has abandoned its solar thermal manufacturing business entirely, Andater Manager José Luis Martin confirmed. Andater was part of the Spanish Assyce Group, a multidisciplinary team of engineering specialists, who were responsible for setting up some of the larger photovoltaic installations in the country.
Southern Spain's competitor Isofotón has already stopped its solar collector production at the beginning of this year. The photovoltaic and collector manufacturer inaugurated a completely new factory in 2007 near Malaga. Back then, the prospects for the solar thermal market were excellent, and the company planned with annual outputs of 400,000 m2 of collector area. They were only able to meet a small fraction of these plans, and management decided to abandon the solar thermal activities in view of a still gloomy outlook.
Another collector manufacturer that shut down its business because of the weak construction sector is Constante Solar S.L. based in Tenerife. "Sales have been that poor over the last two years that it has become no longer profitable to manufacture the solar thermal collectors ourselves," Carlos Pérez, Plant Manager of Constante Solar, claims. The company stopped the production of solar collectors this spring, and is now purchasing collectors from the mainland.
Parts of this news base on a comprehensive country portrait about the Spanish solar thermal market, which was published in Sun & Wind Energy 5/2011.
More information:
http://www.astersa.net
http://www.ocv.es
http://www.termicol.es
http://www.andater.com / http://en.assyce.com