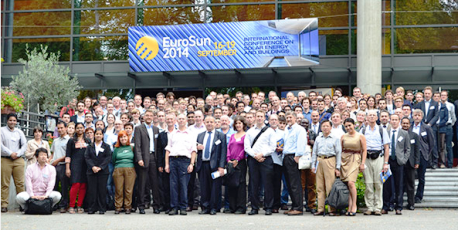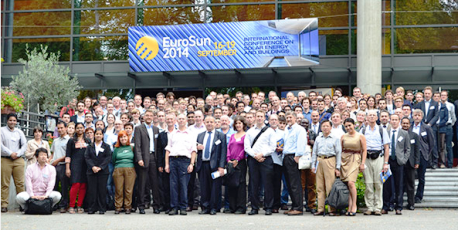 Spain/South Africa: EuroSun and SASEC Extend Submission Deadlines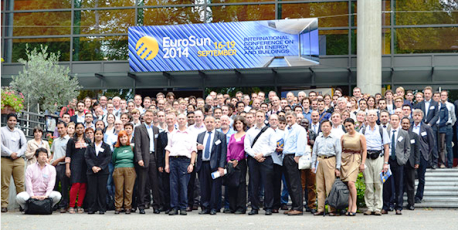 Two solar thermal conferences have recently extended their abstract submission dates. The EuroSun 2016 conference, which will take place on the Spanish island of Mallorca between 11 and 14 October 2016, will still accept submissions until 24 April. Step-by-step instructions, including abstract guidelines and an abstract template, are available on the EuroSun website. The SASEC 2016 conference, which is planned for 31 October to 2 November in Stellenbosch, South Africa, extended its submission deadline to 18 April 2016. Here, abstracts of 400 to 600 words can be uploaded as PDFs to the conference page. One of several key topics of both conferences: markets and technologies for solar heating and cooling. The photo shows participants of the EuroSun 2014 conference, which took place in France in September 2014.
Photo: Romain Blanch/ ISES
The biennial International Conference on Solar Energy for Buildings and Industry, EuroSun 2016, is being jointly organised by the International Solar Energy Society (ISES), the Spanish Association of Solar Energy, AEDES, and the University of the Balearic Islands. Over 400 participants are expected to attend the conference and discuss key challenges in the sector, such as the requirement to develop safe and cost-effective storage systems at different temperature levels and the need to define standards as well as testing procedures and guidelines for new commercial applications, for example, solar district heating or process heat. Authors will be informed in June 2016 about whether they have been accepted as speakers. The deadline for the early-bird fee is 15 July 2016 and the complete conference programme is expected for September 2016.
SASEC is an annual conference offering stakeholders in southern Africa to meet international experts and exchange ideas with them. This year's conference will be organised and hosted by the university in Stellenbosch, whereas SASEC 2015 was chaired by the University of Pretoria.
The event focuses on both solar electricity and solar thermal technology, systems and applications. The international keynote speakers have already been presented on the website:
Dr Werner Platzer, who is currently involved in establishing the Fraunhofer Chile Research Center for Solar Technologies in Santiago, will explain the latest trends in commercial solar thermal applications.
Dr Dave Renné, President of the International Solar Energy Society, will talk about concentrating solar power.
Dr Carsten Agert from the University of Oldenburg, Germany, has been invited to speak about distributed solar electricity generation from the system perspective.
The early-bird registration ends on 31 July 2016. The complete conference programme is planned for publication in September 2016.
More information: