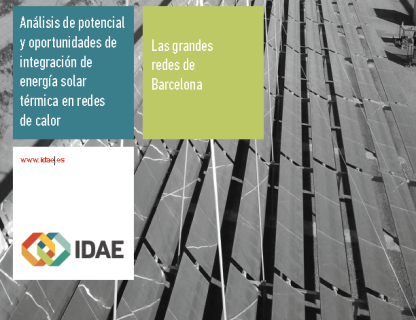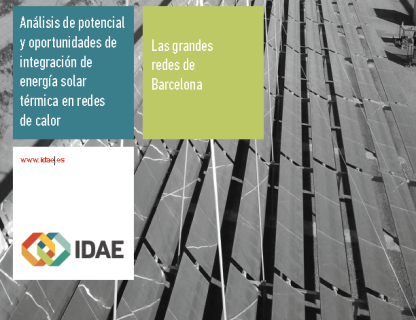 Spain: Study Demonstrates Technical and Economic Viability of Barcelona's Solar District Heating Grid
The Spanish Institute for Energy Diversification and Saving (IDAE) has finalised its study on the technical and economic viability of incorporating solar thermal technology into urban district heating and cooling networks. The case study was carried out in Barcelona and concludes that solar thermal is a feasible alternative not only technically but economically as well. Until today, there has only been one district heating plant in operation which integrates solar thermal technology. It is called ParcBit and located at the Technological Innovation Park Balear on Mallorca. According to representatives from IDAE, the new study aims at encouraging further investments in solar district heating in Spain. 
Source: IDAE
Centralised District Heating and Cooling, DHC, in urban areas has been one of the most promising sectors for renewable heat deployment in recent years, especially in
Denmark, Germany and Austria
. In Spain, there have already been some district networks which use renewable technologies, most of them in the Catalonia region and Aragon. But most of the networks currently in operation employ either biomass or geothermal.
To address the issue, IDAE published the study Analysis of the Potential and Opportunities for Integrating Solar Thermal Energy into Urban Heating Grids in March. The authors from Barcelona-based engineering company Aiguasol analysed two networks in their city: The 22@ network operated by Districlima is using vapour gases from a waste incineration plant and the energy source of La Marina operated by Ecoenergies Barcelona is biomass. "Solar cannot compete with the low heat prices in 22@, so we focused on analysing an integration into La Marina," explains Oriol Gavalda, one of the authors of the study from Aiguasol.
District heating
22@
La Marina
Operator
Districlima
http://www.districlima.com
Ecoenergies Barcelona http://www.ecoenergies.cat
In operation since
2012
2011
District heating network size
12 km
5,753 m
Grid return temperature range
90 / 60 °C hot water
90 / 60 °C hot water

Current heating technology
Waste Incineration plant with 20 MW and a gas back-up boiler with 20 MW
Biomass boiler with 5.86 MW
Key information on two existing district heating networks in Barcelona, which might be equipped with solar thermal generators. 
Source: IDEA
The study analyses the potential to complement current generation technologies by two solar thermal technologies, either a linear Fresnel collector (LFC) or a flat plate collector field (FPC). The simulation covers the period between 2014 and 2020, with different dates for starting operations. The following table shows the results for the yield and costs of the two technology options under consideration. Investment costs have been set to a rather low level of 205 EUR/m² for the FLC and 294 EUR/m² for the FPC, however, Oriol Gavalda confirms that these costs are proven in already installed turnkey installations. The authors have limited the life time of the Fresnel collectors to 15 years, "due to the moving parts of the tracking system", explains Gavalda.
| | | |
| --- | --- | --- |
| | Linear Fresnel collector | Flat plate collector field |
| Start of operation | 2014 | 2018 |
| System life | 15 years | 25 years |
| Mirror / collector area | 1,606 m² | 5,412 m² |
| Estimated total solar yield | 771 MWh/a | 2,435 MWh/a |
| Specific solar yield | 480 kWh/m²a | 450 kWh/m²a |
| Total heat demand in La Marina | 2,965 MWh/a in 2014 | 8,118 MWh/a in 2018 |
| Solar share | 26 % | 30 % |
| Investment costs | EUR 329,000 | EUR 1,592,000 |
| Internal rate of return | 10.6 % | 4.5 % |
| Levelised energy costs | 42.9 EUR/MWh | 58.5 EUR/MWh |
Key project development results for the two solar options integrated in La Marina. The analysis has been made without factoring in any kind of public subsidies. The heat demand of La Marina will grow significantly according to the operators of Ecoenergies Barcelona. 
Source: IDAE
Both solar options achieve a positive IRR rate, however, applied to rather different frame conditions. The flat plate collector field that will come in operation in 2018 when the heating demand in the grid has increased significantly to 8,118 MWh/m²a reaches a solar share of 30 % with an IRR of 4.5 %. The FCL plant covers 26 % of the lower heating demand in 2014 reaching an IRR of 10.6 %.
More information: