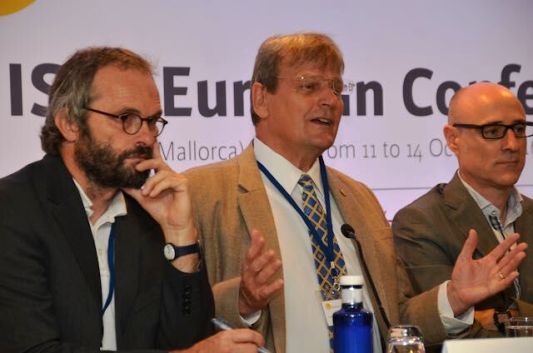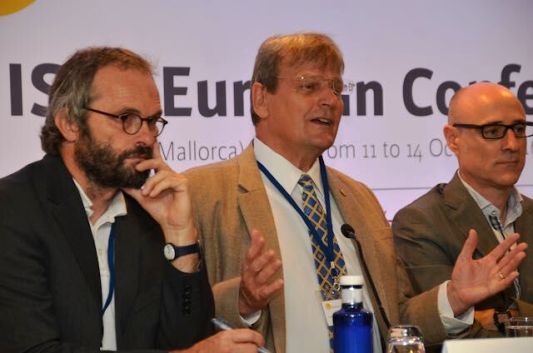 Spain: EuroSun 2016 Focuses on Complete Solar Systems
From 11 to 14 October, more than 300 experts in solar energy met in Palma de Mallorca for the EuroSun 2016 conference. Organised by the International Solar Energy Society (ISES) in cooperation with the University of the Balearic Islands (UIB), the conference is attended mainly by scientists and industry stakeholders from the solar heating and cooling sector. But for the first time, speakers also included well-known specialists from the photovoltaics sector. Two panel discussions illustrated the wide range of opinions on solar heat and solar electricity market development and the technologies' competitors. The photo shows Professor Eicke Weber (middle), newly elected Vice President of ISES and Director of the Fraunhofer Institute for Solar Energy Systems (Fraunhofer ISE) based in Freiburg, Germany, and two of the three conference chairs: Professor Wolfgang Streicher (left) from the University of Innsbruck, Austria, and Professor Víctor Martínez Moll (right) from the UIB.
Photo: Eva Augsten
Over the past years, ISES has begun to shift the focus of the Eurosun conference from solar thermal technologies toward complete solar systems, including photovoltaics, PVT Technologies and heat pumps. Weber pointed out during the opening session that solar energy had become an important contributor to energy supply. Stakeholders in conventional energy technologies felt threatened by its ascent and tried to stop the change to renewables. "ISES can play a very important global role in making sure that this transformation process goes smoothly, goes as fast as possible," Weber said in an interview conducted during the conference (see links below).
Participated in controversial panel discussions (from left): Robin Welling (Tisun, ESTIF), Adel El Gammal (Becquerel Institute) and Ken Guthrie (IEA Solar Heating and Cooling Programme)
Photos: Eva Augsten
"We are facing a very dynamic development of the renewable energies, especially in the solar part. There is kind of a competition coming up between photovoltaics and solar thermal. They use the same spaces. Photovoltaics can do everything solar thermal is doing via heat pumps or directly, and the prices are coming down," added Wolfgang Streicher, Chair of Eurosun's international committee. This is roughly in line with the simulations by Fraunhofer ISE which depict what a future energy network in Germany could look like. Their scenarios include large amounts of pump-generated heat based on renewable power from sun and wind energy.
Streicher's conclusions were corroborated by Adel El Gammal, co-founder and Director of the Becquerel Institute, a Brussels-based consultancy specialised in PV and electricity markets. "I do not think we need to separate energy into heating and electricity," he said during the forum Solar Energy in Europe in the Current Market Development Situation on the second conference day.
"Coal is our common enemy"
But what some call a holistic approach is seen as a strategic error by others. Andreas Häberle, Director of Swiss SPF – Institute for Solar Technology, made clear that he believed long-term decisions should not be made based on short-term economic opportunities, but based on what technological solution performed best in the long run. In his opinion, solar thermal technologies should play a bigger role then they were doing now. Robin Welling, CEO of Austrian solar thermal manufacturer Tisun and President of the European Solar Thermal Industry Federation (ESTIF), agreed: "Heating is our task," he said during the panel discussion. Ken Guthrie, Chair of the Executive Committee of the IEA SHC Programme, tried to consolidate the different views: "We need to cooperate where cooperation is needed and compete where it is relevant – for instance, there will be competition for roof space," he said. "But at the same time, we should not forget that we are still producing energy from coal – which is our common enemy."
Solar-brewed coffee was offered by Celestino Ruivo (middle) from the University of Algarve, Portugal
Photo: Eva Augsten
A few of the other conference topics: solar process heat, storage technologies and the integration of solar elements into the architectural design of buildings and cities. There was also a solar cooking workshop taking place on the conference site. And 20 students from the European Master Course in Solar Energy attended the conference as a part of their course programme.
10 expert video interviews recorded at EuroSun 2016 – view the playlist: