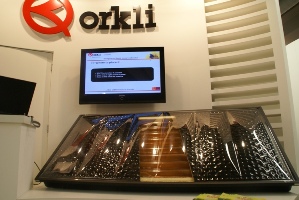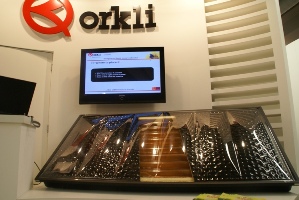 Spain: Complete Solar Thermal System as single Roof Element
The first time Spanish company Orkli, S. Coop presented its stand-alone solar water heater with an integrated storage tank was at the international heating fair ISH in Frankfurt, Germany, in March. The 80 kg element includes all the components of a standard solar water heater, such as a metal absorber coated with black chrome, an expansion vessel, a recirculation pump, safety valves, a heat exchanger, and a storage tank. The small PV panel in the left-hand corner of the collector which supplies the pump renders the system completely autonomous.
Photo: Bärbel Epp
"Our new Orkli collector is based on a model which was launched around 15 years ago by an independent Spanish engineer, who sold around 200 of those systems. However, they were limited to a pressure of two bars only," Inaki Braco Pasamar, Solar Product Manager at Orkli, explains. "We purchased the technology three years ago and have developed a system which withstands a pressure of 6 bar and has a maximum operating temperature of 95 °C, limited by a safety valve." The central issue of the research activities was the tank's material: In cooperation with a large chemical company, Orkli developed a polymer material which withstands the aforementioned requirements on pressure and temperature. It makes up the horizontal coils inside the tank, offering a volume of 150 litres.
 The system's absorber consists of two stainless steel sheets, specially formed, spot-welded, and later coated with black chrome. Glycol flows through the channels of the metal structure and heats up. The forced solar circuit is linked to a heat exchanger located at the bottom of the polymer tank. "The absorbers are of our own design. We produce them in our solar factory in Oteiza, in the north of Spain, as we do the polymer tank," Braco Pasamar confirms. He is additionally Sales Director at manufacturing company Soterna, a joint venture with Orkli. The first Orkli Solar water heater elements left the factory in March 2010. With a team of ten people, Pasamar's company is capable of producing around 20,000 units a year. Orkli Solar has been Solar Keymark certified since October 2010, making the Solar Product Manager confident to also find new customers outside his home country.
The system can be adapted so as to mount it either on a tiled or flat roof, as well as at a façade. Installation is fairly easy, because it involves only the cold and hot water supply.
More information:
http://www.orkli.com