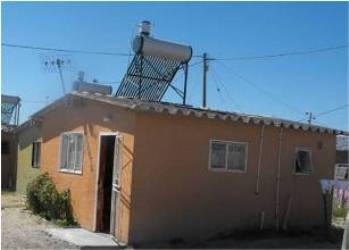 household with solar water heater
South Africa: Solar Water Heating Strategy & Implementation Plan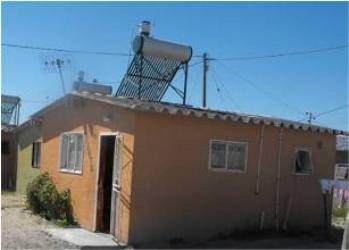 Last November, South Africa's Department of Minerals and Energy (DME) published the draft of an "Overall Recommended Strategic Framework". The framework is to come into effect in April 2010. This strategy should help to equip 1 million households with solar water heaters by 2014.
Photo: Department of Minerals and Energy
"How can the take-up of solar water heaters be rapidly increased across more than 11 million South African homes?," South Africa's Energy Minister, Dipuo Peters, asked. To answer this question, her ministry organised a strategy workshop in November 2009, at which the Department of Minerals and Energy (DME), the World Bank and the Renewable Energy Market Transformation (REMT) Unit joint forces to create a high-level, strategic framework for boosting an industry that is still growing at relatively small rates.
All in all, six market segments will define the basis for strategic planning (see also the attached presentation):
the upper income segment, in which households possess more than 1.2 million geysers
the middle to low income segment, which includes 3 million existing geysers
the segment consisting of 6 million households without a geyser
the segment of failure-related geyser replacements, with more than 0.3 million units per year
the segment of newly built houses, with 0.25 million new homes annually
commercial and industrial segment.
Each of these market segments is to be approached in a different manner. Some examples include:
The DME's target of extending the market share in the upper income segment. This is said to require implementing already available initiatives instigated by the private sector. Restricting electric water heating loads through the National Energy Regulator of South Africa (NERSA) is another proposal in the framework. An appropriate administration of standard offers for subsidies or rebates on any qualified solar water heater could be done as well.
A dedicated solar thermal system supplier holding a national mandate shall be chosen to procure products and suppliers for those two segments across South Africa. Furthermore, the DME has proposed the establishment of "Energy Service Companies (ESCO)". ESCO are to be registered and accredited private sector institutions responsible for supplying SWHs under national policies and funding framework in their designated areas of authority. ESCO has to provide low-cost, best-quality systems using bulk buying, obtain and manage funding, allow for a rigorous supply chain management and large-scale project management, protect customer rights and interests and be able to guarantee quick service delivery.
The clear message of the workshop was: "If we continue like today with our current policies and industry level, it will take us 15 years to reach the 1 million systems target". Instead, DME called for the creation of a solar vision to prompt the required changes in the energy sector: "By the year 2020, 50 % of the residential water heating should be supplied by solar water heaters, besides reaching a widespread use of solar water heating and other heating technologies in the commercial and industrial sectors."
More Information:
http://www.energy.gov.za/
REMT (Renewable Energy Market Transformation) Development of South Africa, Yaw Afrane-Okese
yawa@dbsa.org
Text was written by communication specialist Hanna Schober based in South Africa.
Schober@solrico.com