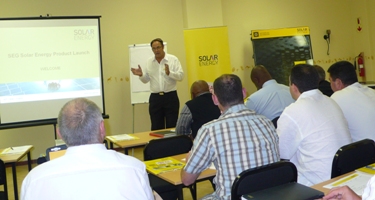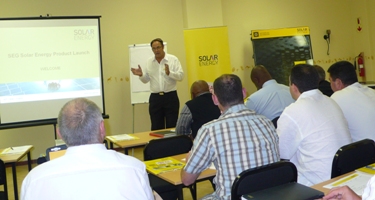 South Africa: SEG Solar Energy Offers Training and Marketing Support to Suppliers and Plumbers
A training day in Randburg: SEG Solar Energy, the newly founded solar system provider in South Africa, provides trainings and free marketing for its dealers and plumbers.
Photo: SEG Solar Energy
SEG Solar Energy was launched in November 2009 following the successful path of its Austrian holding company. SEG aims to provide South African citizens with affordable solar systems for hot water and power generation. The trade mark of the system provider is a trained network of suppliers and plumbers who will sell and, in some cases, also install the systems themselves. SEG offers a wide range of energy technology kits for space heating, hot water supply, pool heating and electricity production.
"We created the training programme ourselves, concentrating on our products, price list and installations," explains Theresa Sebastian from SEG. "We had three different training days in November 2009, with approximately 55 participants attending. They were from all over South Africa and some were also from Zimbabwe and Mozambique." The next training days will be offered in Ferndale, Randburg, at the company's premises on the 24th of February, 2010 and the 17th of March, 2010.
But not only is the company offering trainings for their suppliers and plumbers, but also free advertising materials to help them sell the company's products. According to the company, the free marketing material is thought to save time and, more importantly, money, as there are no additional expenses for marketing. But this was not all: The company would as well provide the first 100 suppliers with a free solar collector panel to be on display in their showrooms.
"We see a bright and sunny future for SEG Solar Energy in South Africa," CEO Werner Sebastian, who entered the solar industry in 2005, states. "The changes in the country through Eskom's rebate system and the electricity shortage helps to change the solar market completely in South Africa. The consumer, as well as the commercial market, is now open to new technologies and a new level of quality."
More Information:
SEG Solar Energy
Tel: +27 (11) 326 3957
E-mail: info@seg-solar.co.za
http://www.seg-solar.co.za
This text was written by communication expert Hanna Schober based in South Africa.
Schober@solrico.com.