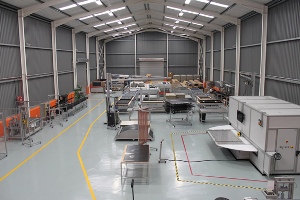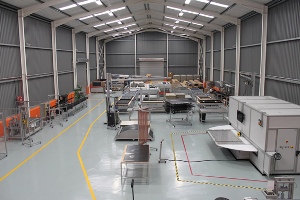 South Africa: New Collector Factory commissioned
South African company Ikhwezi Solar (Pty) Ltd announced in mid-July that its new solar thermal flat plate manufacturing plant has become fully operational. The factory's annual production capacity is 22,000 collectors, which are manufactured on a single shift basis. Before starting its own collector production, the company based in East London, at the southeast coast of South Africa, had specialised in supplying and installing solar thermal collectors for both South Africa's commercial and domestic market. "We decided to capitalise on the momentum created in South Africa, with the focus having moved much to renewable energy," Executive Director of Ikhwezi Solar, Pieter Bosch, explains.
Photo: Ikhwezi Solar
Ikhwezi Solar is a subsidiary of the Ikhwezi Investment Group, which has been active in the fields of automotive component manufacturing, property development and renewable energy.
Ikhwezi Solar's management decided to purchase the machinery from German company Minitec, which offers 'made in Germany' equipment, as well as a Solar Keymark certified collector module that can be produced by it. The total investment into the machinery – which was shipped from Germany to the new 1,000 m2 facility in South Africa – added up to South African Rand (ZAR) 10 million (around EUR 1 million).
According to a July press release, the new factory has been designed with ecological sustainability in mind: "Natural lighting systems provide the lighting for the factory floor, with water requirements being met by a 20,000 litre rainwater harvesting system". Consequently, the water heating works entirely without an electrical backup. Heating demand is met by the company's 'iSun' collectors.
Photo: Ikhwezi Solar
The machinery equipment composes of the absorber production units, including a laser welding machine, a soldering unit for harp-type absorber pipes, as well as an assembly line for the flat plate collectors, which are sealed with an EPDM gum in a hydraulic press.
The South African Bureau of Standards (SABS) has tested the iSun collectors in four different configurations for domestic applications, using locally produced tanks to meet the requirements of the rebate programme by national utility Eskom. According to the press release, the company will have other system configurations tested, "once certainty is obtained as to the continuation of the rebate programme and the testing requirements thereof".
The iSun collector has also been designed for use in large scale commercial applications. A first showcase of commercial usage is the Life St. Dominic's Hospital, East London: Fifty-four iSun collectors are being installed on the roof. The array heats approximately 7,500 litres of water, which is then drawn into the hospital's hot water tanks and circulation system.
More Information:
http://www.solarec.co.za