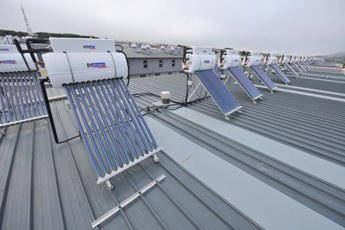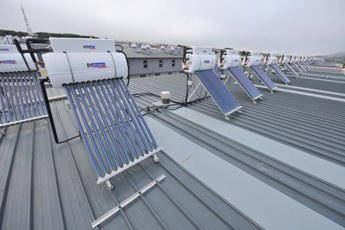 South Africa: Harvesting the Sun with Western Cape's Housing Project
Thermosiphon systems on the roofs of social housing blocks in South Africa: Almost all of the 210 flats that are part of the newly built housing project in Steenberg, a suburb of Cape Town, have been equipped with a solar water heater of local system supplier Hotmix (Pty) Ltd.
Photo: Bruce Sutherland / City of Cape Town
A new and eco-friendly social housing project can finally welcome its tenants on the 1st of March, 2010. The South African Rand (ZAR) 40 million project set up in Steenberg, a suburb of Cape Town, developed out of the need for consciously reducing energy consumption at home: almost all of the one or two bedroom flats have their own solar water heater system on the roof of the block. The thermosiphon technology is thought to improve the cost-effectiveness of the project. The first phase of the project consists of 450 units; phase two will equip another 210 apartments with a roof installation.
Steenberg is the first social rental housing project in Western Cape and a joint project of government authorities and the private sector. Other South African provinces, such as Eastern Cape, KwaZulu-Natal, Limpopo and Gauteng have already had their own social housing projects. "The project was a rental housing alternative for people earning between ZAR 2,500 and ZAR 7,500 a month," Zalisile Mbali, spokesperson for the Western Cape's Department of Local Government and Housing, explains. Mbali is not authorized to publish information about who was in charge of delivering and installing the solar water heaters, but he added: "The tender was fairly long and the budget is very small, which will make it hard for us to equip all of the 450 units with their own solar water heater."
The new flats are not for sale. Their purpose lies in overcoming hurdles low-income people are faced with when wanting to build their own homes and are available to them until their financial situation improves. "Steenberg is in a restructuring zone, which means it is near public transport and in an established or expanding economic and social area. Local land was available in an area, in which the present property market excludes family with lower income," Mbali said.
The project supports the National Housing Policy that intends to increase the number of available flats for rent in South Africa. The City of Cape Town supports the project, teamed up with SOHCO Property Investments, a non-profit distribution company, in order to offer such social housings in good locations to low-income tenants.
According to Zalisile Mbali, "there are more social housing projects in the pipeline". Recent statistics confirm that about 20 % of all South African households rent their flats, with most of them being poor and low-income earners. Approximately 55 % of the tenants have a monthly income of less than ZAR 3,500 and a further 22 % earn between ZAR 3,500 and ZAR 7,500. There is an estimated need for an additional 400,000 housing units in the metropolitan area of Cape Town and the figure is growing each year.
More Information:
Department of Local Government and Housing: http://www.capegateway.gov.za/eng/
SOHCO Property Investments: http://www.sohco.co.za/
Hotmix (Pty) Ltd: http://www.xstream.co.za
This text was written by communication specialist Hanna Schober, based in South Africa.
Schober@solrico.com