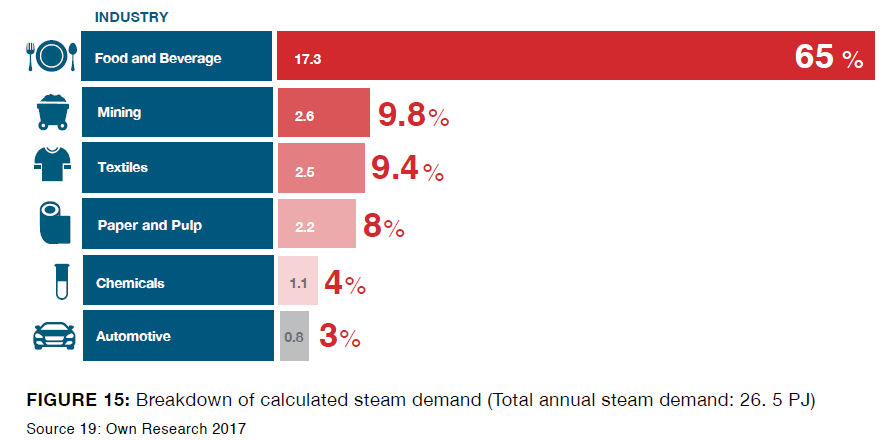 South Africa: Greatest SHIP potential in food and beverage
Food and beverage is the most important industry for solar process heat in South Africa, according to new research. Not only does it have by far the most demand for steam among all industries (see the chart), but it also showed a rise in production output over the last 15 years. It comprises mainly small and middle-sized companies and, more often than not, they use expensive sources of energy, such as oil, paraffin, natural gas and LPG. In most cases, solar heat could be an economically viable alternative. However, profitability becomes much more difficult to achieve if solar energy is used to substitute coal boilers at comparatively large producers. These are some of the findings of a study called Solar Heat for Industry: South Africa (see the attached document), published in late February as part of the Solar Payback project.
Source: Solar Payback
The 72-page report was created jointly by several South African and German organisations. While the Council for Scientific and Industrial research (CSIR), the South African National Energy Development Institute (SANEDI) and the Southern African-German Chamber of Commerce and Industry (SAGCCI), shared their knowledge about the local market environment, the related project was coordinated by Solar Payback's Jan Knaack, who works at Germany's solar industry association BSW-Solar. The report gives an overview of South Africa's goods-producing industries, discusses the socio-economic effects of industrial solar heat and provides some assessments of the economic viability of SHIP projects.
Reducing upfront costs
"Despite the high solar irradiation potential in South Africa, the low cost of coal and the overall low business confidence are major barriers to growth," said Knaack. To create a sustainable SHIP market, the study's authors recommend low-interest loan programmes or the implementation of heat supply contracts (ESCO) to reduce upfront costs. ESCO models could likewise increase the trust of industrial heat consumers in solar thermal systems because the ESCO assumes liability for downtime in the first 10 or more years that a SHIP plant is in operation.
An encouraging sign is that South Africa's solar industry has comprehensive knowledge about how to plan and install large solar heat projects in the private and public sector. Multiple companies work as EPC (Engineering, Procurement, Construction) contractors and have so far installed 89 relatively large solar hot water and solar cooling systems, with the largest totalling 1,220 m² of collector area. Most have used flat plate collectors, but a project including linear Fresnel ones has been implemented as well.
Final energy consumption in South Africa in 2015 (total: 3,131 PJ). Coal was the prevalent source of energy to meet industrial heat demand.
Source: Solar Payback
New green industries
South Africa's industrial sector is by far the largest consumer of energy and has become a front-and-centre issue when developing strategies to lower greenhouse gas emissions. It accounts for 37 % of final energy consumption, with the transport sector ranking second, although much lower, at 24 %, and the residential one third, at 23 %. According to the IEA, 63 % of all energy consumed in industry produces heat (see the chart above). To satisfy this enormous demand, South African businesses are mainly using coal in their industrial boiler systems because of its low price, while gas is an alternative boiler heat source in Gauteng's industrial areas around the cities of Johannesburg and Pretoria.
As far back as January 2007, when the government adopted the Industrial Policy Action Plan (IPAP), it was said that the industrial sector would need to make production more energy efficient. IPAP stated that the key sectors which would have to improve energy efficiency were agriculture (includes food and beverage); chemicals, plastics and pharmaceuticals; clothing, textiles and leather and footwear; and automotive. Several of them are relevant to SHIP.
The food and beverage industry showed the highest growth rate of all industries listed in the Solar Payback report. By contrast, production output in the textiles sector remained at prior levels owing to greater competition from Asian-based businesses. The same was true for the chemicals industry, whereas the pulp and paper market grew slightly over the last 15 years.
According to the report, South Africa has a well-established food and beverage sector, which includes protein-rich goods (meat, poultry and seafood), fruit and vegetables, dairy, grain and confectionery. In all, a small number of businesses generate much of its turnover, with the top 20 companies having provided 50 % of total earnings in 2017. The report's authors point to the statistical business register, which has 8,930 companies listed under food, beverage and tobacco, a lot of them micro-businesses with fewer than 10 employees. And as per the Sector Education and Training Authority (SETA), there are 1,892 food or beverage businesses with an annual wage bill of more than South African Rand (ZAR) 500,000.
| | | |
| --- | --- | --- |
| | No. of companies with ZAR 500,000 or more in annual wages to pay | Note |
| Food and beverage | 1,892 | Most have fewer than 49 employees. |
| Textiles (clothing, leather and footwear) | 874 | Turnover of sector is declining because of imports from Asia. |
| Chemicals | 2,010 | Primarily located in urban areas, with 45 % of businesses based in Gauteng. |
| Pulp and paper | 18 | Dominated by two companies, Sappi Limited and Mondi (the only pulp producers). |
| Automotive | 256 | MerSETA Motor Chamber members, 44 % of which are based in Gauteng. |
Number of businesses in SHIP-relevant industries. Data for the first four industries was taken from the register maintained by the Sector Education and Training Authority (SETA). It consists of those companies that have to pay skills development fees because of annual wage bills exceeding ZAR 500,000.
Source: Solar Payback
Organisations mentioned in this article: