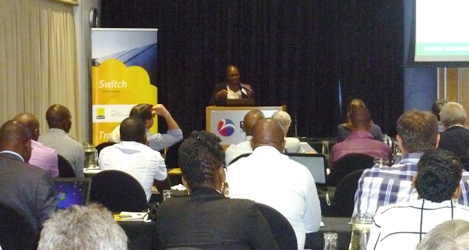 SOLTRAIN: 2,150 Technicians Trained and 187 Demonstration Systems Installed in SADC Region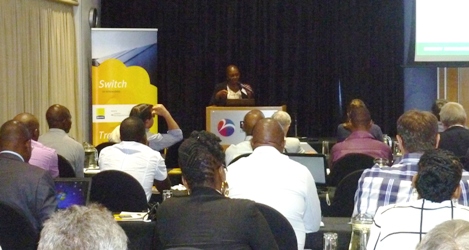 The Southern African Solar Thermal Training and Demonstration Initiative (SOLTRAIN) presented the project's remarkable progress since 2009 during a conference in Midrand, South Africa, on 11 February 2016. "Between 2009 and 2015, about 2,150 people have been trained in 80 courses, and nearly 187 solar thermal systems ranging from 2 to 250 m² collector area per system have been installed in the five target countries South Africa, Namibia, Lesotho, Mozambique and Zimbabwe," Project Coordinator Werner Weiss, Managing Director of Austrian institute AEE INTEC, summed up the results. The photo shows the presentation of Dr Thembakazi Mali, Senior Manager Clean Energy Solutions at the South African National Energy Development Institute (SANEDI) on 11 February. The one-day conference was attended by 63 stakeholders from the SADC region.
Photos (2): Monika Spörk-Dür
The event took place one day after a technical tour organised by Dieter Holm, SOLTRAIN Project Coordinator in South Africa and independent consultant, to the Gauteng Solar Thermal Flagship District and was followed by the kick-off meeting for Phase III of SOLTRAIN. The project was funded by the Austrian Development Agency and co-financed by the OFID, the OPEC Fund for International Development.
Technical tour: Visit of the flat plate collector drainback solution at the Chalmar Beef production unit in Bapsfontein, South Africa, where two 60

m²

systems produce hot water for cleaning processes.
Demonstration plants installed as part of training courses
One of SOLTRAIN's key targets was the "demonstration that solar thermal technology works," as Weiss underlined in his presentation. Several demonstration plants were installed as part of training courses, others by commercial companies. Selected systems have been described in the attached SOLTRAIN Demo Systems Book, which was presented at the conference in its final version (see the attached document). Both smaller and larger plants were set up at social institutions and small and medium enterprises, where they have since contributed to water heating, cooling and the generation of process heat. The table below emphasises the electricity saving potential of solar thermal systems, as the SADC region has been suffering from electricity shortages and power cuts. For example, a South African household with access to the power grid uses 60 % of its electricity consumption for hot water preparation.

Country

Total
collector area
[m²]

No. of systems

Solar yield
[kWh/a]

Electricity
savings
[kWh/a]

Mozambique

41.4

2

30,330

33,363

Namibia

228

71

207,398

228,138

South Africa

1,326

85

929,688

1,022,657

Zimbabwe

332

19

274,441

301,885

Lesotho

34.5

10

28,527

31,380

TOTAL

1,962

187

1,470,384

1,617,423
Energy saved by the demonstration plants installed during SOLTRAIN phase I and II. The solar yield has been simulated with the T*Sol program based on specific system designs and local irradiation. The total annual electricity saving is calculated at 90 % efficiency of an electric element.
Source: SOLTRAIN
Phase III of SOLTRAIN is scheduled to run between March 2016 and July 2019. Botswana will become the sixth partner country of the programme. The total budget for SOLTRAIN III is EUR 3.4 million. During the conference, Weiss named the key elements of this third phase as part of a presentation entitled "The way forward":
Organising 12 policy workshops
Training 500 persons in 22 courses
Developing three national Solar Thermal Roadmaps as part of stakeholder processes for Botswana, Lesotho and Zimbabwe
Drafting six national Solar Thermal Roadmaps to be implemented in Botswana, Lesotho, Mozambique, Namibia, South Africa and Zimbabwe
Establishing solar thermal market statistics for each country
Installing 100 solar thermal demonstration systems, plus quality assurance
More information:
Other news about the SOLTRAIN Project on solarthermalworld.org:
South Africa: Roadmap Sets 21 GWth target for 2030, September 2015 Link
South Africa: Building Regulation Not Applied as Intended, February 2015 Link
Namibia: Solar Water Heaters as Demand-Side Measure, December 2014 Link
South Africa: Solar Thermal Experts Lecture at University of Pretoria, February 2014 Link
South Africa: Solar Thermal Technology Platform Launched in Pretoria, June 2013 Link
Mozambique: "The government is committed to the development of clean energy technologies", May 2014 Link
Southern Africa: SOLTRAIN's Demonstration Systems Achieve up to 800 kWh/m²a, February 2013 Link
SOLTRAIN: Free Solar Heating Systems for Social Institutions, May 2012 Link
SOLTRAIN: Solar Thermal Training in South Africa, February 2011 Link
SOLTRAIN: Southern African Solar Thermal Training and Demonstration Initiative, September 2009 Link