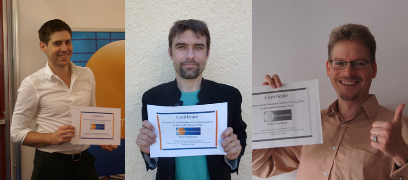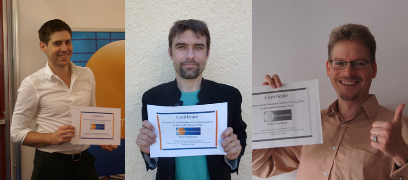 Solarthermalworld.org Quiz: All-rounder Win Prizes
Solar thermal professionals from all around the world took part in the third round of the solarthermalworld.org quiz at the Intersolar Europe in Munich. The three winners, who were announced at the third day of the fair, came from three different countries as well. Daniel Mugnier (center), researcher at French company Tecsol SA, and German Uwe Trenkner (right), from Trenkner Consulting in Brussels, scored best in the 10-question quiz. The best quiz participant from outside Europe was Chris Beebe (left), CEO of Beam Engineering, a company located in Boston, Massachusetts.
The first prize went to Daniel Mugnier, who now has the choice between tickets for one of the following conferences organised by Solarpraxis AG, Germany: 13th Forum Solarpraxis in Berlin, CIS-ES 2012 in Spain or SMEThermal 2013 in Berlin. Trenkner and Beebe each also receive a one-year subscription to international magazine Sun & Wind Energy – sponsored by German publishing company BVA.
It has been interesting to see how the winners this year were the all-rounders. They were either researchers with a broad scope of activities, such as Mugnier, or employees of consultancies, such as Trenkner and Beebe. Trenkner is responsible for the communication within the Solar Heating and Cooling Programme of the International Energy Agency (IEA SHC). Beebe with his engineering and consultancy company Beam Energy & Engineering is involved in a number of projects regarding the implementation of subsidy schemes on the state level as well as quality assurance measures, especially when it comes to solar thermal technology.
The quiz consisted of ten multiple-choice questions, asking about solar thermal in general, about technical issues, as well as about the political situation on the European continent. A few examples:
What is the name of the globally harmonised collector standard which will be implemented in 2013?
How many individual visitors does solarthermalworld.org register monthly?
Which person has never been President of the European Solar Thermal Industry Federation (ESTIF)?
Which country in Eastern Europe had the largest newly installed collector area in 2011?
What means ESCO?
Solarthermalworld.org is a unique web portal for solar thermal professionals from all around the world. The website offers around 3,000 of the latest news and research articles on global solar thermal developments. Topics include: market updates, case studies of successful projects, incentive programmes, policy frameworks and technology trends. The site has about 18,000 individual website visitors every month.