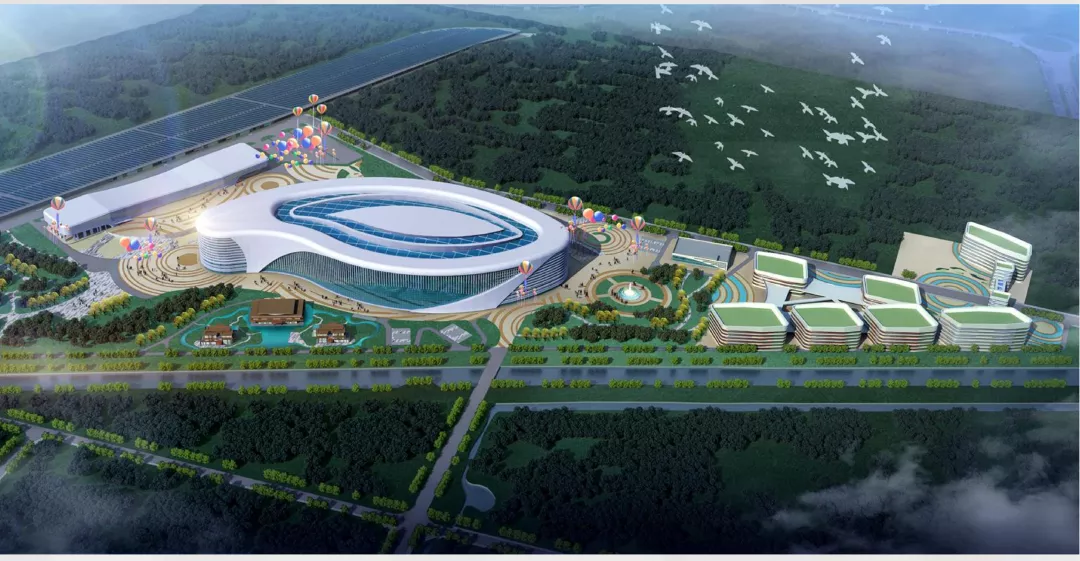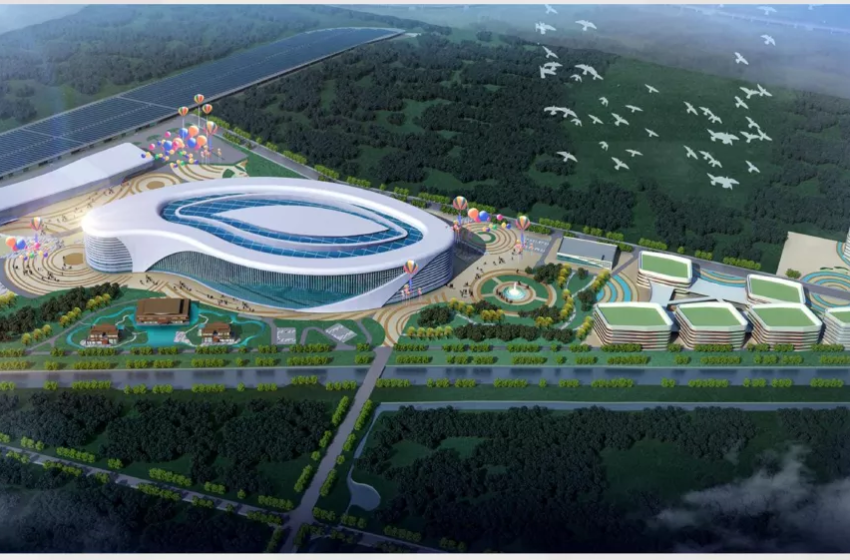 SolarThermal+ project sets new standard for green tourism in China
One year after the ground-breaking ceremony in May 2020, construction on the all-weather eco-tourism resort Water World in Handan, Hebei, northern China, is in full swing. Photos posted to weixin.qq.com on 19 April reveal a huge construction site bustling with activity (see photo below). The multi-storey building in the middle of the image above is planned to house the Water World, which will include a large beach area and swimming pools. Once completed, the attraction is expected to bring in 14,000 visitors daily. The special feature of the new leisure resort is its solar-sourced heating and hot water system, which will be designed and built by Inner Mongolia XuCheng Energy. The thermal energy required on site will come from a 112,000 m2 field of parabolic collectors (about 78 MWth), which will be put up on the outskirts of the resort area (on the left side of the image above).
Photo: weixin.qq.com
The new
field in Handan
will break XuCheng's own record of operating the world's largest solar district heating plant equipped with parabolic trough collectors, a record currently held by the plant the company installed in 2016 to heat households and a shopping centre in Baotou, Inner Mongolia.
"A solution providing clean solar energy supply solution was required for receiving planning permission for the resort in Handan," explained XuCheng General Manager Yu Wang. He added that the new system will be the company's first commercial solar district heating plant, as the previous one in Baotou was fully financed by the regional government. Wang expects construction on the solar field to begin in May 2022.

A XuCheng press release published in February 2021 calls the new endeavour "SolarThermal+, a comprehensive development demonstration project". It is seen as a breakthrough for large solar heat installations in the tourism, sports and hotel sectors. The resort will offer indoor recreational areas consisting of beaches, swimming pools, ski hills, skating lanes, and other opportunities for leisure in order to meet the needs of all age groups.
According to XuCheng's press release, SolarThermal+ will be built in two phases. The first part of the tender invitation includes Water World, the Hot Spring Hotel, the reception and so on. The second comprises the Ice and Snow World, the solar energy system, the parking lots and a square grid of roads.
The project's innovative energy system will reportedly include a 112,000 m2 field of parabolic trough collectors, a 30,000 m2 underground facility housing the energy storage equipment, an 8,000 m2 control centre, and a 25,000-metre-long heat network.
Water World construction during the first phase of SolarThermal+
Photos: weixin.qq.com
USD 657 million investment to pay back in 8 years
In July 2018, XuCheng entered into partnership with Handan Jiaojian Zhanghe Development and Beijing Tianshou Industrial Investment to set up Handan Jianxu New Energy, with a starting capital of Renminbi (RMB) 400 million. Handan Jianxu New Energy builds and will operate the leisure resort.

The total investment is about RMB 5 billion (USD 657 million), which includes construction and installation costs of RMB 3.704 billion, land acquisition costs of RMB 730 million, and interest payments of RMB 209 million. Consulting fees, the costs of supervising construction, the price for creating the design etc. add up to another RMB 196 million, while RMB 152 million is used as a buffer budget. The budget comes from loans and financial service providers.

According to XuCheng's press release, the four-season tourism resort Water World is expected to draw in visitors living within a 300-kilometre radius – which covers 25 cities with a total population of 136 million people. Overall, the SolarThermal+ project is said to create 1,200 jobs, attract 3 million tourists annually to the Water World and 300,000 to the Snow World. With that in mind, XuCheng estimates a payback period of 8 years.
Sources for this article include a WeChat interview with Mr Yu Wang and the following news reports:
Press release sent out by XuCheng on 8 February 2021