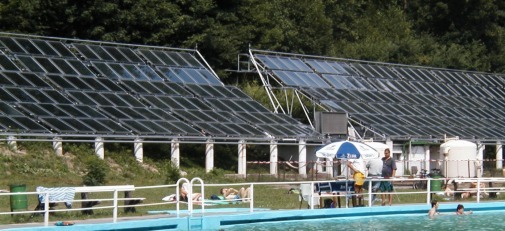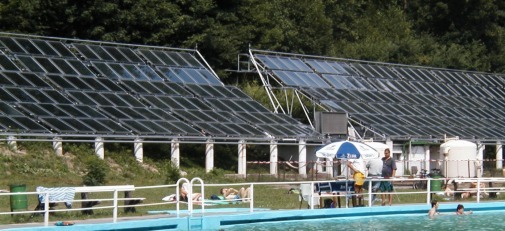 "Solarni Liga" – The Solar League in the Czech Republic
Solar city in the Czech Republic: Rusava leads the Solar League in the category "solar thermal" for several years. The reason for this top position is the collector area of 550 m2 in the public swimming pool installed in 2004. Photo: Solarni Liga

The Czech Solar League is enjoying a strong growth in popularity. 596 counties are participating in this year´s competition, which will end in December. Although there is no physical prize for the winner of each category, the counties involved in the Solar League all benefit from their involvement in one way or another. Participants can count on an increase in their "green-image" reputation and on free publicity, the forerunners on intense media interest and the judges of the Solar League will offer professional consultancy when it comes to the presented solar installations. Just being part of the League means that one has much easier access to information and know-how regarding solar technology – a priceless advantage in a country, in which solar technology is still a fairly new concept.
The rules are simple: any city, town or village can enter the competition and submit the specifications of its solar installations. Points are given according to the number of solar thermal, as well as photovoltaic systems.
Vacuum tube collectors: 180 points for every square metre
Normal collectors: 100 points for every square metre
Fresnel lens collectors: 40 points for every square metre
Plastic/Textile collectors: 30 points for every square metre
Photovoltaic installations: 1 point for every 3 Wp of output, max. 40 points per installation
There are four different categories, in which registered cities, towns and villages compete:
A general category, in which all of the cities compete against one another, regardless of whether their installations are solar thermal or photovoltaic systems.
A category, considering only solar thermal installations
Another category, considering only photovoltaic installations
Different subcategories, based on the size of the city/town:
– less than 5,000 inhabitants
– 5,000 – 50,000 inhabitants
– more than 50,000 inhabitants
The following table shows the winners of last year's competition in the category considering only solar thermal installations: 
Name of town

Total of installed collector area counted for CSL 2008 [m2]

Number of inhabitants

Collector area per head [m2/inhabitant]

Rusava

560

590

 

0.95

Bozi Dar

122

177

 

0.69

Pistina

48

172

 

0.28

Hostetin

95

232

 

0.41
The League is not only trying to attract the attention of the media and the public, but also of politicians, in order to show the increased interest in renewable energy sources throughout the Czech Republic, hoping for more financial support from the government. It was this hope for more financial incentives that prompted the civil association LEA (League of Ecological Alternatives) to launch the Czech Solar League in 2004. Now, the national league has also become a member of the European solar league network, the RES Champions League, which launched in March this year.
More information:
http://www.solarniliga.cz
http://www.res-league.eu
This text was written by Vladislava Adamenkova, a Czech student of international business studies in Vienna, Austria.