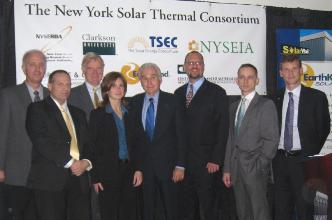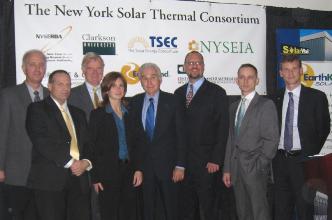 New York Solar Thermal Consortium
Solar Thermal Roadmap for New York State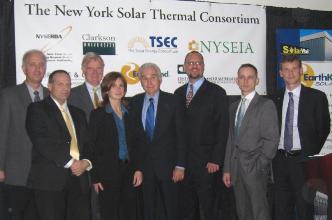 Stepping out of the shadow of photovoltaics: A New York Solar Thermal Consortium (STC) launched plans to draft a Solar Thermal Road Map for New York State, which aims to set up solar thermal technology in New York equalling 2 GWth (2.86 million m2) by 2020. Photo: Paul McGinniss
The photo above shows some of the Consortium members at a Symposium held at Tech City in Kingston, New York, in October 2009 (from the left): Frank Falatyn (Board Vice Chair & Secretary of STC), Vincent Cozzolino (President / CEO of STC), Anthony G. Collins (President of Clarkson University), Sarah Osgood (Assistant Secretary in Governor Paterson's Energy Office), Maurice Hinchey (Congressman), Ron Kamen (President of NYSEIA), Sebastian Goeres (Renewable Energy Specialist at Droege & Comp) and Olivier Drücke (President of ESTIF).

The Solar Thermal Consortium (STC) is working to make New York State a leader in the fast-growing US solar thermal market. As part of its initiatives, it is developing the Solar Thermal Roadmap to identify business hurdles and pave the way for increased development, investments, manufacturing, sales and installations of solar thermal technologies in the state.
The Solar Thermal Consortium is a coalition of businesses, governmental and academic groups. It is led by the collaborative efforts of Clarkson University´s Center for Advanced Materials Processing (Camp), the NYSTAR Center for Advanced Technology (CAT) Development Program, the New York Solar Energy Industry Association (NYSEIA) and Droege & Comp., an international management consulting firm with a Competence Center Energy/Utilities focused on renewable energy.
"There is a tremendous amount of opportunity for solar thermal applications in New York," Ron Kamen said to westfair online. Kamen is an important driving force behind the Consortium as he is vice president of Kingston-based solar system provider EarthKind Energy, as well as president of the New York Solar Energy Industries Association (NYSEIA). He encourages Consortium members by what he has experienced during his several business trips to Germany. "The area in a radius of 500 miles around New York City is roughly equivalent to Germany's population and land mass. Even so, the country has significantly less solar power potential than New York state. Currently, there is a solar thermal industry with 150,000 installations annually, creating 20,000 jobs and providing $2 billion in economic activity each year".
Kamen also has a close relationship with the European Solar Thermal Industry Federation (ESTIF). Its president Olivier Drücke supports the drafting of the Solar Thermal Roadmap. The institution that will lead the effort of writing the Roadmap is Clarkson University. It will do so based on the results derived from best practise policies and financial measures on the global solar thermal market. The final version should be available in April 2010. Attached you will find the White Paper describing the process of drafting the roadmap.
More information:
New York Solar Energy Industries Association (NYSEIA): http://www.nyseia.org
EarthKind Energy (System provider): http://www.earthkindenergy.com
Clarkson University´s Center for Advanced Materials Processing (Camp): http://www.clarkson.edu
Droege & Comp: http://www.droege-international.com