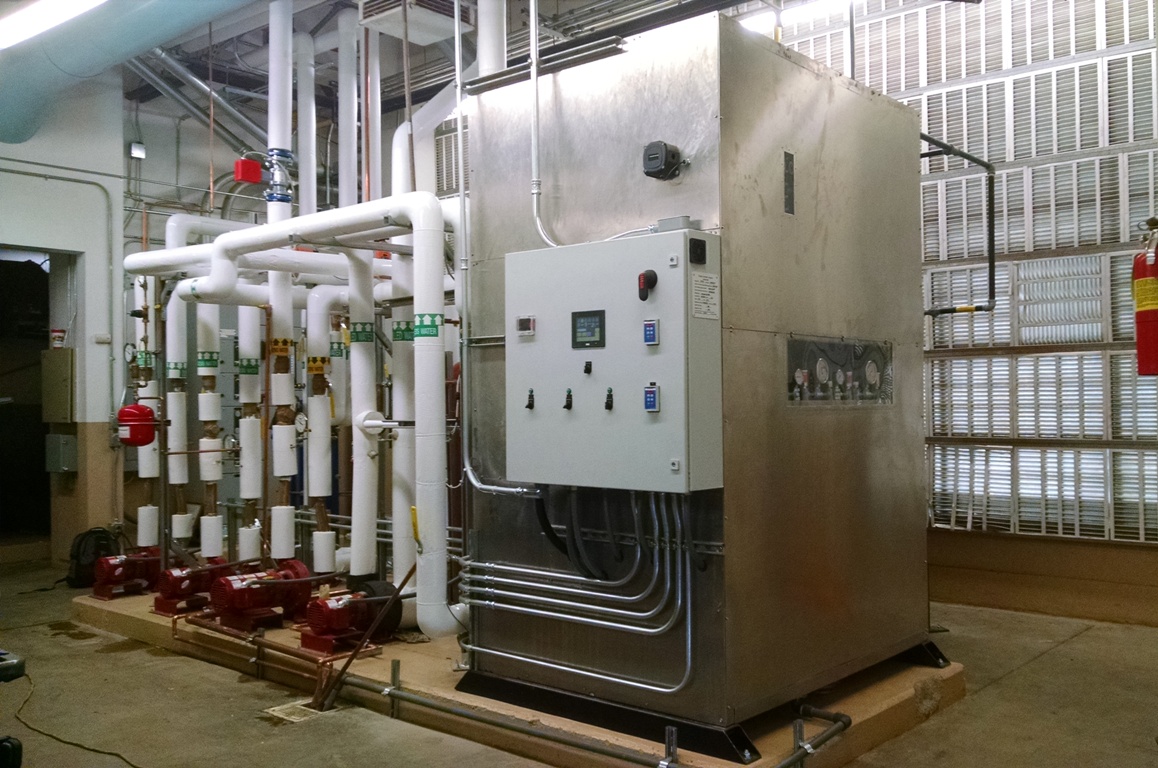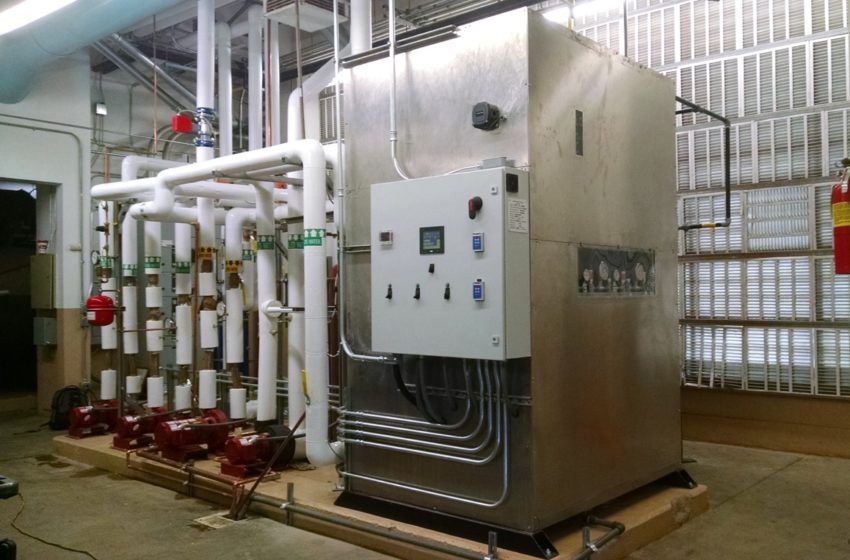 Solar thermal cooling and hot water at hotel in California
US-based company Energy Concepts has been offering absorption chillers for more than 20 years. In 1996, it installed its first commercial ammonia absorption chiller in Kotzebue, Alaska, and that unit is still in use today, during the salmon season in summer. In August 2016, it started up a solar-heated Helisorber chiller to demonstrate the use of air conditioning and simultaneous production of heat-pumped hot water at a hotel in California (see photo). Concentrating flat plate collectors traded under the name Chromasun make up the solar field partly powering the unit. The Helisorber has been designed to meet domestic hot water demand for the hotel's guest rooms and kitchen and covers some of the cooling load required for the large building.
Photo: Energy Concepts
"We develop absorption chillers that use a variety of heat sources, with the intent of using energy as efficiently, and wisely, as possible," said Ellen Makar, Vice President of Business Development at Energy Concepts. Nearly all of the reference systems by Energy Concepts have used other sources of heat, such as jacket water or exhaust from a reciprocating engine, exhaust from a turbine, biomass or biogas. In the current project, they are called Thermosorbers or Thermochillers. Previous projects have seen the business's products installed at poultry processing (100 tons of refrigeration or TR) and meat packing (250 TR) facilities, as well as a paper mill (150 TR).
"One excellent source of heat is solar thermal, especially with new efficient, low-cost evacuated tube collectors," said Makar. She explained that regardless of whether solar thermal supplied hot water or cooling, economic returns were low and payback periods long. Not so with the Helisorber: It could provide hot water at lower heat input and offer free cooling at the same time. Makar: "The benefit from solar heat input is more than doubled, resulting in attractive payback periods. A Helisorber unit provides energy savings even when powered by a backup boiler." She is convinced there is significant market potential for the technology in food processing, tourism and other industries.

| | | | | |
| --- | --- | --- | --- | --- |
| | TS 25 | TS 50 | TS 100 | TS 200 |
| Chilling capacity (tons of refrigeration) | 25 | 50 | 100 | 200 |
| Chilling capacity (kW) | 88 | 176 | 352 | 703 |
| Inlet temperature for solar heat (°C) | 121 | 121 | 121 | 121 |
| Heat input (kW) | 170 | 340 | 674 | 1,348 |
| Heat output – hot water (kW) | 258 | 516 | 1026 | 2,052 |
| COPth | 0.52 | 0.52 | 0.52 | 0.52 |
| Electric demand (kW) | 1.5 | 2.8 | 4.5 | 8 |
| Weight (kg) | 1,023 | 1,818 | 3,636 | 6,364 |
Technical specifications of differently sized Helisorber chillers
Source: Energy Concepts
Solar field consisting of Chromasun collectors
Photo: Energy Concepts
Hot water production instead of cooling tower
The first-of-its-kind cooling project at the hotel in California includes a Helisorber with a capacity of 25 tons of refrigeration. According to design parameters, this unit named HS25 runs on solar heat at 250 °F (121 °C) supplied by a solar field with a thermal capacity of 500,000 BTUs (147 kW). Hot water storage at a capacity of 3,000 gallons (11,356 litres) helps smooth out operation during the day, since hot water demand in the hotel is highly variable. A natural gas standby system ensures uninterrupted heat supply. On a sunny day, about 30 % of the heat input for the Helisorber unit comes from solar energy.
Hot water heat output amounts to 880,000 BTUs (258 kW) per hour at 130 °F (54 °C). The chilling co-product is 25 tons at 44 °F (6.7 °C). All of the heat supplied by the HS25 goes to heating domestic hot water, so that a cooling tower is not needed and only four small pumps require electricity.
The cost of installing the demonstration plant has been covered by the California Energy Commission (CEC) and local utility Sempra, which has to reduce energy consumption and peaks by funding energy efficiency measures. The installation was carried out by California-based solar thermal system integrator
Adroit Energy
and the cooling specialists at Retrofit Technology. The solar field was delivered by
Chromasun
, a San Francisco-based collector manufacturer that stopped production shortly after the solar field at the hotel was commissioned. Energy Concepts partnered with Chromasun for the project to develop specifications, design the control, monitoring and data acquisition systems and optimise servicing and performance.
Organisations mentioned in this article: