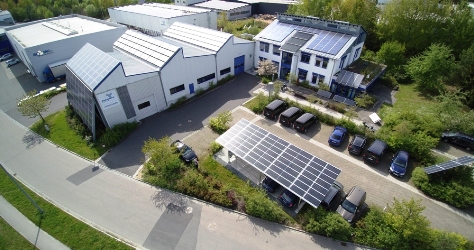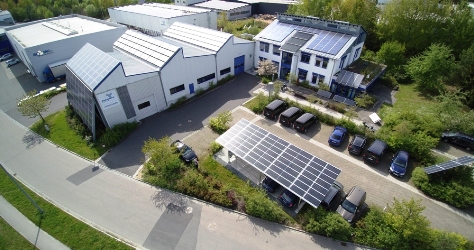 Solar thermal biomass drying in Chile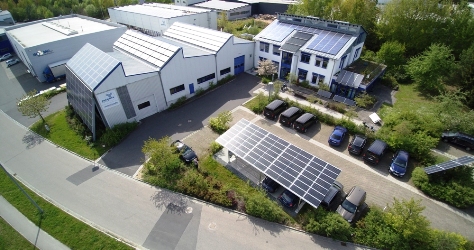 Grammer Solar, a German manufacturer of solar air collectors, has signed a contract with Ligno Pellets, a Chilean producer of wood pellets, for the delivery and installation of a 220 m² solar field. Grammer Solar, which opened an office in Chile's capital, Santiago de Chile, three years ago, has so far built some smaller solar dryers of up to 20 m². The new demonstration plant will be supported by the German Energy Agency, also known as dena. The organisation will reportedly cover 40 % of the investment, which is around EUR 100,000. The photo shows the headquarters of Grammer Solar in Immenstetten, in the south of Germany.
Photo: Grammer Solar
Siegfried Schröpf, one of the two managing directors of the German collector manufacturer, said that solar dryers showed great promise in Chile. "Our client wants to increase production capacity but has been using 20 % of that capacity for drying," he said. "Even without subsidies, the investment in solar will pay back in six years if our customer sells the pellets it doesn't use." Ligno Pellets is in a wood processing area 350 kilometres south of Santiago de Chile. It uses sawdust, a waste product delivered by the surrounding sawmills, to make wood pellets. To achieve good quality, it must dry the sawdust thoroughly before pressing it into pellets. Plans are to install the solar field on a factory hall that is to be built soon. Schröpf expects the made-in-Germany components to arrive early next year. Commissioning the system is planned for mid-2019.
Together with two 4 kW air blowers, the 220 m² solar field will have 135 kWth of peak power and an air flow rate of 10,000 m³ per hour. Solar air heating is economically attractive because there are no storage systems or heat exchangers needed. Air is heated directly inside the collectors and each kilowatt-hour can instantly be used for drying, regardless of the temperature level. Unlike fruit, sawdust is little affected by a lack of solar drying during one or two cloudy and rainy days.
Three years of intensive market development efforts
Grammer Solar has put considerable effort into expanding its reach in Chile. Between 2013 and 2014, Schröpf spent one year in Santiago de Chile, to start the company's office. At present, Grammer Solar employs four staff on site. Besides solar air drying, it offers turnkey solar PV systems, which make up around 80 % of turnover.
In 2016, the company established a public-private partnership, mainly to popularise solar technology in the agricultural sector. "We have partnered with 7 universities and educational institutions to offer our expertise in solar drying technologies to professors, lecturers and researchers."
But potential customers also want to see the technology in action before signing contracts, which is why dena will be providing financial support for the Ligno Pellets demonstration project. In late 2017, the manufacturer was selected from among several agricultural companies which followed the invitation by Grammer Solar Chile to apply for the project. The contract was then signed in June.
40 years in business
Grammer Solar celebrated its 40th birthday last year. Georg Grammer, who founded Grammer during the first oil crisis, has always had a soft spot for solar and a solar technology department has been part of the business since the beginning. Via a management buyout, Siegfried Schröpf and Wolfgang Dotzler established Grammer Solar in 2000 and became the company's managing directors. By then, staff had moved into a zero-emission production facility in Immenstetten.
Organisations mentioned in this article: