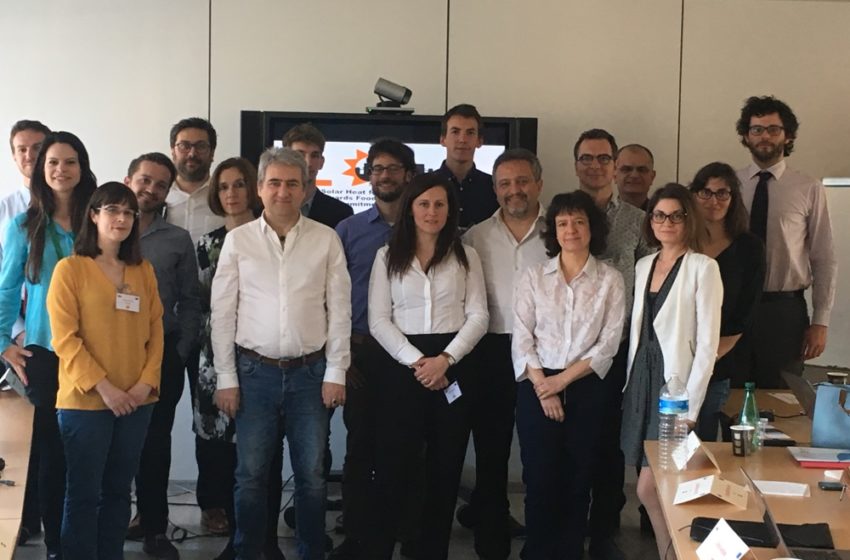 Solar thermal in agri-food industry
Four industrial sites owned by businesses producing goods for the agri-food sector will be the real test of whether solar process heat can gain a foothold in the industry. The companies are partners to SHIP2FAIR, which was launched in April in Brussels (see photo) and is scheduled to end in March 2022. The project is being supported by the European Commission's Horizon 2020 Programme and has a budget of about EUR 10 million, subsidies for demonstration sites included. It is managed by a consortium of 15 organisations based in several EU countries.
Photo: SHIP2FAIR
"By installing 2.9 MW of solar thermal capacity, we're expecting to achieve a solar fraction of up to 40 % at the production sites we selected," said Montserrat Lanero, Project Manager at Spanish Foundation Circe –Research Centre for Energy Resources and Consumption. Four producers are partners to SHIP2FAIR, namely
Martini & Rossi, Italy (alcoholic distillation)
ABC Industrie, France (ham-cooking process)
RAR Group, Portugal (sugar boiling)
Bodegas Roda, Spain (wine fermentation as well as stabilisation)
"Novel solar collector technologies, such as evacuated flat plate and linear Fresnel collectors, will be used and monitored over a period of 18 months," explained Lanero.
Chart: SHIP2FAIR
The SHIP systems to be built at the four locations will serve as a basis for developing and demonstrating the tools and methods required to make solar process heat projects a success. These include:
A replication tool to facilitate SHIP system design (size, configuration, choice of technology, etc.) and the study of technical and economic feasibility. At 10 additional locations, the tool will be used to investigate thermal properties and economic factors.
Control Tool: Easy-to-integrate control software to support decision-makers and optimise the execution of SHIP projects, starting with the industrial process and continuing with the solar heat installation as well as other existing heat sources.
A document called Overall SHIP Guide  – comprehensive how-to guidance about the entire lifecycle of a SHIP system in the agri-food sector, including design, installation, operation and maintenance.
Training and site visits 
In addition to preparing and testing these tools, project members will also try to build capacities and raise awareness, mainly among agri-food SMEs and their employees as well as among students from research institutes that have partnered with SHIP2FAIR. Training will focus on practical application and include technical site visits to the installations which are part of this project as well as analyses of the data collected from them.
Illustration showing the main project goals: 1. SHIP design tools; 2. Solar heat technologies; 3. Integration of solar heat into industrial processes; 4. Control of process integration inside the plant; 5. Capacity building
Source: SHIP2FAIR
Organisations mentioned in this article: