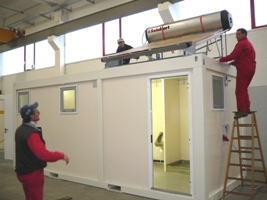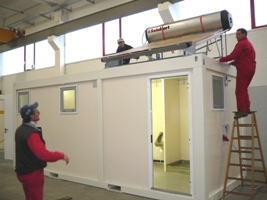 Solar-powered mobile sanitary Container for United Nations
Mobile sanitary container for trouble spots around the world: A thermosiphon system from Australia's collector manufacturer Solahart supplies the emergency accommodation with hot water by the sun. Photo: Solahart
The Australian manufacturer Solahart was chosen to deliver around 5,000 solar water heaters to the emergency accommodations that the U.N. requires for humanitarian relief missions. The solar systems are part of mobile sanitary facilities, which are to provide hot water for domestic use at trouble spots around the world. The Solahart units will be temporarily stored inside the accommodation units during shipping. Once they reach their destination, the panels and tanks will be placed on pre-fitted mounting points on the roofs.
The international peace-keeping organisation selected the Solahart models because of the company's many years of experience in the field of thermosiphon solar systems. The Australian manufacturer started producing and shipping solar water heaters more than 50 years ago. Nowadays, Solahart is part of the Rheem group, a subsidiary of the global Japanese heating giant Paloma, a private corporation with a turnover of US$ 2.5 billion and 15,000 employees.
The contract with the United Nations was closed with Solahart's Italian distributor, Accomandita. It will have the U.N. spend US$ 7 million over a period of three years. Several hundred of the systems have already been delivered. For almost 30 years, Solahart has been working closely with Accomandita to help them develop Solahart as one of the leading brands in Italy.
More information:
http://www.solahart.com.au/solar-water-heating/latest-news/solahart-wins-major-international-un-contract.aspx