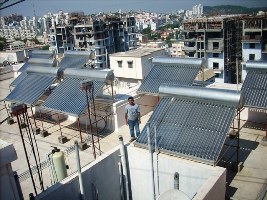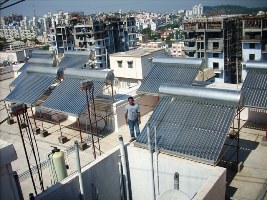 Solar India Mission
Solar India Mission: 20 Million m2 by 2022
The recently published Solar India Mission places its emphasis on large-scale application of solar thermal technology. The photo shows a typical solar thermal installation on a housing estate in India.
Photo: Jaideep Malaviya
The launch of the Jawaharlal Nehru National Solar Mission on 19 November 2009 marked a cornerstone in India's solar energy history. Better known under the name "Solar India" (see the attached document), the Mission is to establish India as a global leader in solar energy technology. India's solar energy potential is vast: Nearly 5,000 trillion kWh of annual solar radiation may come to ensure the future energy security of such a large country. The way towards more eco-friendly alternatives to fuel-based energy remains heavily on the economic costs involved – which is why the programme plans to create the conditions necessary to rapidly build up capacities and promote technological innovations.
Solar India will adopt a 3-phase approach: Phase 1 will consist of the last months of the 11th Plan and the first year of the 12th Plan (up to 2012-13). Phase II will consume the remaining 4 years of the 12th Plan (2013-17) and the time of the 13th Plan (2017-22) will be used for Phase III. The following table shows the summarised targets for solar thermal collector area to be installed during each phase, creating the secure conditions needed for possible investments.
| | | | |
| --- | --- | --- | --- |
|   | Target for Phase I (2010-13) | Target for Phase II (2013-17) | Target for Phase III (2017-22) |
| Total newly installed collector surface per phase | 7 million m2 | 15 million m2 | 20 million m2 |
Source: Jawaharlal Nehru National Solar Mission
The Mission's key strategy will be to focus on the policy changes necessary to meet such an ambitious objective:
create building byelaws to make solar heaters mandatory and simultaneously integrate these demands into the National Building Code
guarantee effective mechanisms for certifying and rating solar thermal manufacturers
include local agencies and power utilities when it comes to measuring and promoting these systems
offer soft loans to support technology upgrades and increase manufacturing capacities, in order to achieve a more on efficiency and cost reductions
Solar Purchase Obligations are planned to support the power generation of utilities, whether in the field of photovoltaics or concentrating solar thermal power. The obligation would increase gradually while the tariff for the solar power purchase will decline over time. The Ministry of Power (MoP) chose NTPC Vidyut Vyapar Nigam Ltd. as the nodal agency, which will enter into a Power Purchase Agreement (PPA) with solar power plant developers.
The Indian Renewable Energy Development Agency (IREDA) will provide the financial assistance, offering 10-year credits with interest rates of no more than 5 %. These credits will be granted via Nationalised Banks for end users, for which the government provides the budgetary support.
Moreover, a Solar Research Council will be set up to oversee the implementation of the strategy, taking into account ongoing projects, availability of research capacities and resources and possibilities of international collaboration. Proposed pilot projects for solar thermal R & D are:
Solar-based space-cooling and refrigeration systems to meet electricity peak loads at daytime and during the summer season
50 to 100 MW solar thermal plants with a 4- to 6-hour storage (which can meet both morning and evening peak loads)
A 100 MW concentration solar power plant, based on parabolic trough technology
 20 to 50 MW solar thermal power plants based on central receiver technology with molten salt/steam as the working fluid and with or without storage