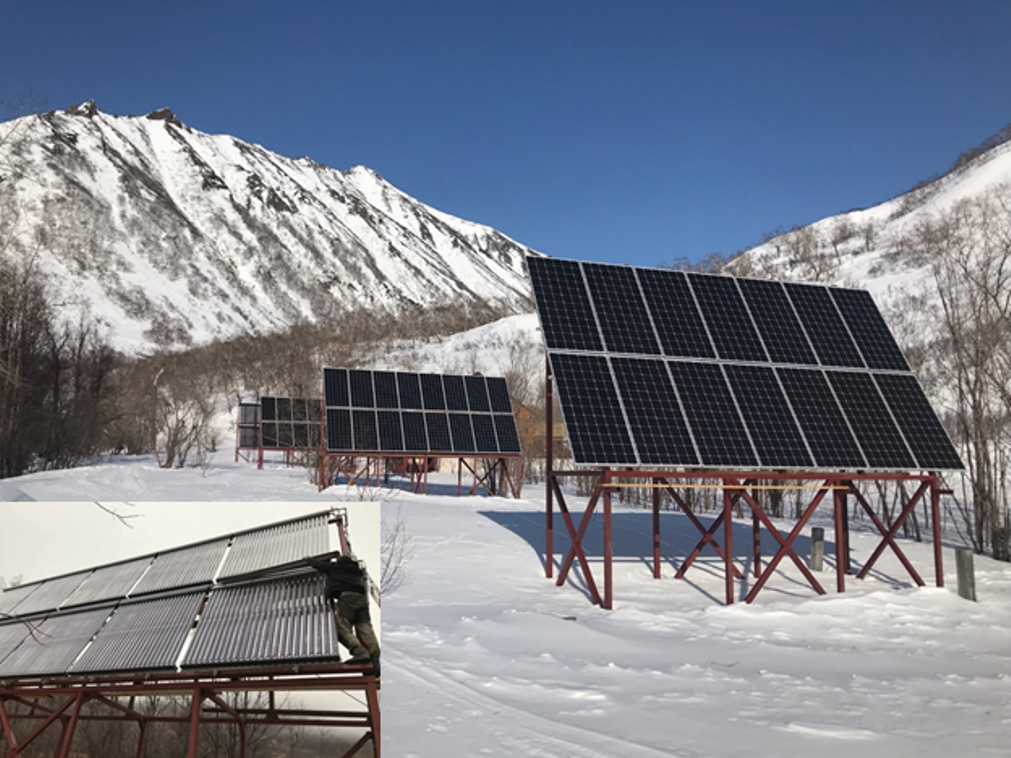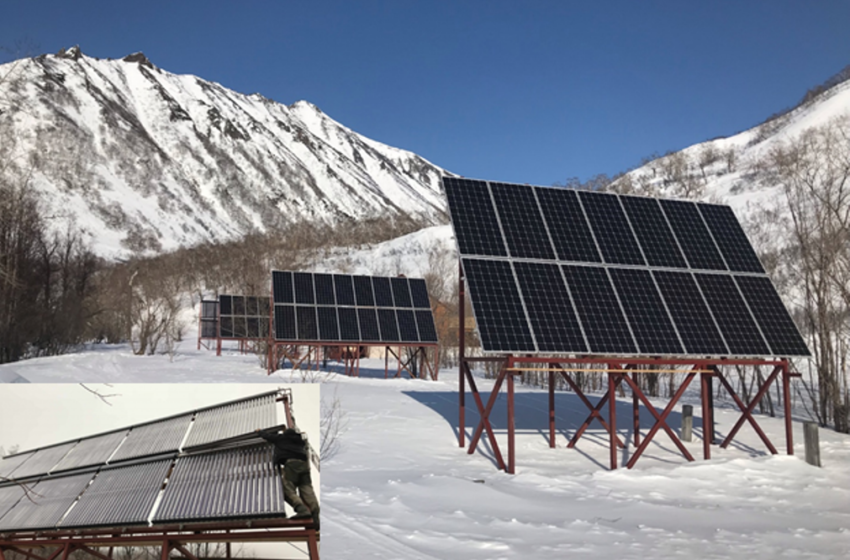 Solar hybrid system heats hostel in Russia's far east
After more than a year in operation, the solar hot water and space heating system put up at St Timon's Mountain Shelter in Russia's Kamchatka region has proved to be both reliable and eco-friendly. Run together with a biomass boiler and a PV system, the 30 m2 field of vacuum tube collectors has made this hostel energy independent all year round. The building is in a protected area on the Kamchatka Peninsula, northeast of Japan, that can only be reached by helicopter.
Photos: Viessmann
The solar field consists of Vitosol 300-T vacuum tube collectors, which include heat pipes delivered by German heating manufacturer Viessmann. "You can adjust the direction in which the absorber is facing so it captures incoming sunlight as best as possible. Turning the heat pipes up to 25 degrees to the left or right will not cause shading on the absorber area," explained Sergey Solovyev, Renewable Energy Engineer at Viessmann Russia. Furthermore, the solar collectors operate reliably because of a special heat transfer fluid in the heat pipes, which has an integrated temperature limitation, called ThermProtect. It reduces the heat transfer when a certain temperature threshold is reached.
In a news article published on c-o-k.ru, Dmitry Mikhailov, Director of VIEnergy, an official Viessmann sales representative based in far-east Russia, is quoted as saying that the hostel "is situated in a valley in Timonovsky, a nature reserve, and you can only get there by helicopter. The hostel's management was therefore looking for eco-friendly, efficient and reliable equipment." Vityaz-Aero, a Russian firm offering helicopter transport services, delivered the solar components and the biomass boiler. It was also the go-to partner for the hostel owner, who paid for the installation. The shelter is surrounded by mountains with peaks of up to 2,000 metres.
The solar system has been designed to meet about 40 % of the yearly hot water and space heating demand from the hostel and is supported by a 70 kW solid fuel boiler, while a liquid fuel boiler provides additional energy at peak times. The solid fuel boiler uses firewood, such as birch and waste wood from the construction of the hostel. Additional firewood will soon be delivered from neighbouring regions, as the environmental standards for the protected area do not allow harvesting wood close to the shelter. According to Mikhailov, there are also plans to add a heat pump to the hot water and space heating system.
All year round, St Timon's Mountain Shelter offers overnight accommodation to tourists who want to go helicopter skiing, biking, fishing or hunting.
This article was written by Eugene Gerden, a Moscow-based freelance journalist specialising in renewable energies.
Companies mentioned in this article: